African Jungle Adventures Limited – Company Profile
African Jungle Adventures Ltd was started in 1999, and officially launched / opened in June 2001. With many years experience in tour and travel operation in East Africa, we are internationally known for offering the best and most affordable services, we have the best prices on the market!
TRIPADVISOR – CLICK TO ENLARGE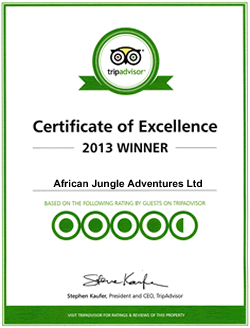 Our Head office is located in Kampala along Hoima Road, Plot 203 Nansana. We also have a sales office in Kigali (Rwanda), Nairobi (Kenya) and soon we are opening a sales office in Arusha (Tanzania).
We have the best selection of lodges in East Africa to cater for all travelers, including budget, mid range and luxury travelers. Our tour drivers / guides are extremely experienced and very knowledgeable about East African flora, fauna and avi-fauna.
Our safari vehicles are very comfortable on our rough roads in East Africa to offer you the best African safari experience! We have new 4×4 Toyota Land Cruisers, Nissan Patrol and Land Rovers.
Our list of past clients is endless! We can send you email contacts (on request) for some of our past clients from your country to share their travel experience with you.  While others promise excellent services, we guarantee it! You can find more customer feedback about our services on Tripadvisor.
We have customized tour packages for gorilla tracking in Uganda and Rwanda, Chimpanzee safaris, wildlife viewing, community tours, cultural trips and white water rafting adventures! Our staff is readily available to assist you in tailor making your travel program that best suit your travel interests, time frame and budget.
If you are traveling to more than one East African countries, you not need to book through different tour operators in each country; we can arrange that all for you. Just let us know your interests and where you want to go.
For any queries, you can reach us on +256-772 561508 (Uganda) / +250 782 716 908,
Email: info@rwandagorillasafaris.com
Welcome to Our Part of the World!
Management!
Important Links
3 days Flying safari to see gorillas