Chimpanzee Habituation Experience in Uganda (CHEX – Budongo Forest and Kibale National Park)
Kibale national park is has the highest concentration if primates with about 13 species. Chimpanzees and other primates tracking / Chimpanzee habituation Experience (CHEX) is the main tourism attraction in the park, not forgetting bird watching with over 350 species.
It is one thing to spend an hour with the chimpanzees of Uganda (Chimps tracking), it is another experience to be with them all day long (Chimps Habituation Experience).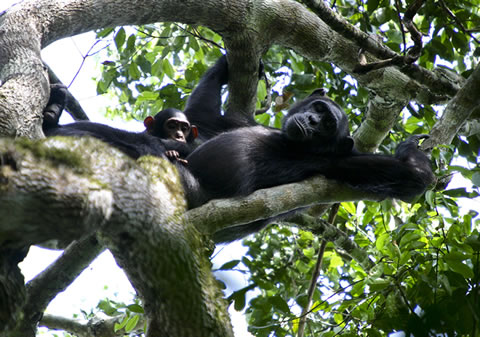 Most people do not realize that they have a choice between chimpanzee tracking and a Chimpanzee habituation experience while on their primate safari in Uganda. Tourists visit Uganda for mountain gorillas and Chimpanzee tracking adventures, forgetting about Chimpanzee habituation experience. Uganda generally has about 4950 chimpanzees; Kibale National Park alone has the most with almost 1500 Chimpanzees.
Most travelers to Uganda visit the chimpanzees much like the mountain gorillas for one hour. However, you have another option to be with chimpanzees all day long in the forests of Budongo or Kibale National Park. This is the habituation experience; all day with chimpanzees in their natural setting.
CHEX is not for the faint of heart; it means an early breakfast at your lodge, a packed lunch/water and you are off before dawn breaks into the forest. You meet your ranger guide and you are off to where the chimpanzees built nests the previous night. Dawn is just breaking and the chimpanzee community you are going to be with the rest of the day is rising from their sleep.
Chimpanzee Habituation Experience (CHEX) entails getting the wild chimpanzees used to the presence of humans. This process can take up to 2 years and today you are part of that process by your all day presence in the forest. Chances are 90% to see Chimpanzees in the wild.
Full day with Chimpanzees in their natural habitat enables take fantastic photos and videos, in the process, you will learn to identify them as individuals by their marks or scars and other unique features that make them stand apart from rest.
The day ends as the chimpanzees climb into their newly built nests for the evening and you head back to your lodge for dinner and overnight.
Best time for Chimps Habituation Experience in Uganda
The best time for Chimpanzee habituation experience in Uganda is March, April, May and November, when there is less tourist congestion. This is low season but rainy. However, we have these trips throughout the year. This is an adventure experience for lifetime and a permit costs US$220 for foreign non-residents, US$150 for foreign residents and US$70 for East Africans.
Book your trip today by sending an Email to: info@rwandagorillasafaris.com, Tel: +256-772561508