13 Day safari to Uganda and Rwanda. Enjoy wildlife safaris to see the Big 5 animals, take fantastic boat cruise, 2 gorilla treks, chimpanzee habituation in Kibale Forest National Park.
Safari overview:
13 days (12 nights) Uganda – Rwanda combined safari.
Safari starts in Uganda (Entebbe Airport) and end in Rwanda (Kigali Airport)
Parks to tour in Uganda: Murchison Falls N.P, Kibale Forest N.P, Queen Elizabeth N.P and Bwindi Impenetrable National Park.
Parks to tour in Rwanda: Volcanoes N.P
To book or inquire about the 13 day gorilla tour package, email us on info@rwandagorillasafaris.com
Tel +256 772 561508 / +256 701 728141

Safari Itinerary:
13 Days Safari to Uganda and Rwanda – Gorilla & Wildlife Tour
Day 1: Arrive in Uganda (Entebbe International Airport)
Our safari guide will welcome you and then transfer you to your Hotel in Kampala for relaxation at Kampala Serena Hotel, Cassia Lodge or The Lodge.
Day 2: Transfer to Murchison Falls National Park (wildlife viewing)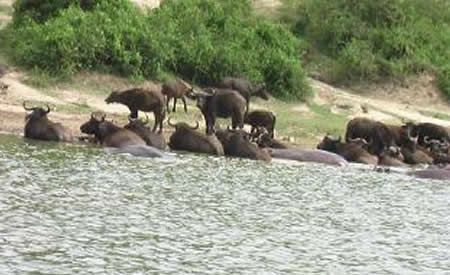 Breakfast and hit the road to Murchison Falls National Park. We shall have a stopover at Masindi hotel for lunch. Proceed to the park stopping at the top of the falls which is a fantastic sight. Here the Nile, the longest river in the world, is forced through a narrow gap in the rock (only 7 meters wide), before ferociously plunging down 43 meters. From here we will continue on, taking a ferry across the river to Paraa Safari Lodge. Game viewing on the way is very good; look out for hippos, elephants, buffalos and many other animals, seen grazing on the banks of the river. Dinner and overnight at Paraa Safari Lodge, Murchison River Lodge or Red Chilli Rest Camp.
Day 3: Morning game drive and Boat Cruise
Breakfast is followed by the transfer to northern part of the park for a game drive. View Elephants, Buffaloes, Bushbucks, Lions, and a variety of bird species. After lunch, proceed for a two-hour boat  cruise up to the substructure of the mighty Murchison falls where sinister water escapes from the narrow gorge, an opportunity to see the amazing hippos, crocodiles, water birds along the river banks enabling a wonderful birding safari. Dinner and overnight at your lodge as on day two.
Day 4: Hit the road to Kibale Forest National Park (home of Chimpanzees)
Wake up for early morning break fast, we will depart with our packed lunch to Kibale Forest National Park. The journey will take us via Lake Albert to enjoy the scenic view of this lake. Reach Fort portal late afternoon for relaxation as we wait for dinner and overnight at Ndali Lodge, Mountains of the moon Hotel or Chimpanzee Guest House.
Day 5: Chimpanzee trekking and Swamp walk
After break fast, we will move into the Forest, for primate viewing. The activity starts at 8.00 am in the morning. A half day search for chimpanzees and other primates including phoestes, Red-Colobus, Blues, Red-tailed and grey cheeked Mangabey swinging through the dense forest and birds, butterflies and many small insects. The guide will provide detailed explanations on not only primates, but also on all the forest's fauna and flora, ensuring that your walk is both informative and enjoyable. This walk is excellent for viewing bird life and primates in close quarters. After lunch, a visit to Bigodi swamp eco tourism site is amazing, as we shall encounter rare and beautiful flora and fauna. Have a look for different bird species like the Shining Blue Kingfisher, Blue Throated Roller and other rare species and also find the fruiting trees, which attract Narina Trogon, Pied Hornbill, Yellow Spotted, Hairy Breasted and Yellow-Billed Barbets. Dinner and overnight at your lodge as on day four.
Day 6: Head to Queen Elizabeth National Park (wildlife viewing)
After breakfast, depart for Queen Elizabeth National Park. We will enter the park via the Northern crater Area. With beautiful lakes and rich grasslands which are set deep in the crater valley, this is truly the most breath-taking scenery in the park. The park is a home to a variety of wildlife including elephants, lions, hippos, buffaloes, Uganda Kobs, baboons and birds all typical riverrine savannah habitats and the famous Kazinga Channel. In the Southern Parts is the Ishasha sector with the tree climbing lions and the Maramagambo forest, one of the largest surviving natural forests in Uganda. The Northern part is traversed by the equator and is dominated by the scenery of crater lakes with lots of flamingos. Dinner and overnight at Mweya Safari Lodge/Enganzi Lodge or Bush Lodge.
Day 7: Chimpanzee tracking and Boat cruise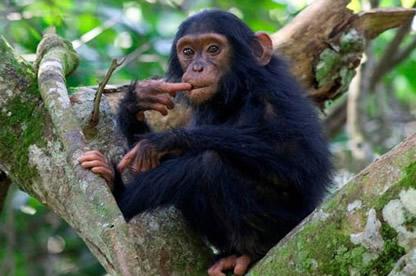 Early morning breakfast and report for briefing about dos and don'ts while with the intelligent chimps. The trackings take you to Kyambura Gorge from where we shall encounter chimps. Expect to see various primates most especially Chimpanzee of different species, Black and white Colobus monkeys and other animals like antelopes, hyenas, Lion and many others in the middle of savanna grassland. This gorge is a home of very many bird species. We will return to the lodge for lunch and a chance to relax before taking an afternoon boat trip along on Kazinga channel. This will give you the opportunity to view wildlife up close: hippo's huff and spray mere feet away from the boat, buffalo linger in the shallows. The shores of the channel are also home to an array of birds including pink backed pelicans, pied and malachite kingfishers, saddle billed stork and many others. Dinner and overnight at your lodge as on day six.
Day 8: Hit the road to Bwindi Impenetrable National Park (home of mountain Gorillas in Uganda)
This morning, we will leave for Bwindi Impenetrable Forest, home to the few remaining mountain gorillas, bird life and primate life in Bwindi is quite superb, and there is an incredible variety of flora. Bwindi is the Bird watchers haven! It holds 348 species of birds and supports 24 of 26 Albertine Rift Endemics that occur in Uganda; and seven red data book species.Arrival in time for lunch and thereafter, relax at the lodge or visit the nearby communities. Return to Mahogany Springs Lodge, Gorilla mist Camp or Gift of Nature.
Day 9: Mountain Gorilla Tracking
After breakfast, rash for the briefing experience and thereafter, enter Bwindi impenetrable forest to encounter mountain gorillas. This trek can take from half an hour to five hours so a reasonable degree of fitness is required as well as a study pair of walking shoes. You sit in the forest among the gorillas listening to them grumble at each other and marvel at the sheer size of the dominant male, the silver back. It is amazing to think that there are only about 700 or so of these creatures left in the world! If you have the afternoon free, you will take a guided village walk to see how the Ugandans live. Return to your lodge for late lunch and relax in the afternoon as we wait for dinner and overnight.
Day 10: Connect to Rwanda and Head to Ruhengeri
After breakfast, drive to the land of a thousand hills (Rwanda). The drive to the foothills of the volcanoes that make up Volcanoes National Park in Northern Rwanda. Dinner and overnight at Mountain Gorilla View Lodge/ Le Bambou Lodge/Kinigi Guest House.
Day 11: Gorilla Trekking in Volcanoes national park (Home of gorillas in Rwanda)
Early breakfast is followed by briefing before you start the trekking activity in the park. Trekking through the forest, hills and swamps can be tough, strenuous and tiring, sometimes taking up to 8 hours in the forest. But coming in contact with the great primates is well worth the effort. You spend one hour with the gorillas which is a truly amazing experience. Dinner and overnight at Mountain Gorilla View Lodge/ Le Bambou Lodge/Kinigi Guest House.
Day 12: Visit the Dian Fossey tomb
This morning, you will participate in the trek to Karisoke Gorilla Research Centre which Dian Fossey, the famous primatologist set up. Because of her struggle to protect the endangered mountain gorilla in Rwanda, a voluntary project was found called; Dian Fossey Gorilla Fund International. Please note that this adventurous activity also takes a full day. Return to the Lodge for dinner and overnight.
Day 13: Morning relaxation and departure
Depending on your departure flight, you will wake up and have breakfast at leisure. Prepare for the journey back to Kigali; we shall make stopovers in case clear observation and photographing is needed. Proceed to Kigali international Airport for your flight back home.
Safari Lodge/ Hotels:
In Uganda, visitors can stay at Kampala Serena Hotel, Paraa Safari Lodge, Ndali Lodge, Mweya Safari Lodge, Mahogany Spring Lodge among others.
In Rwanda: Mountain Gorilla View Lodge, Sabyinyo Silver back Lodge, Virunga Lodge, Le bambou Gorilla Lodge among others.