This 2 Days Rwanda tour takes you to Volcanoes national park for memorable gorilla tracking within one of the habituated gorilla group.
Safari overview:
2 days Rwanda Gorilla trekking safari
Second shortest tour after one day
2 hours drive from Kigali Airport to Volcanoes National N.P
Spend one night in Volcanoes national Park
Visit Gisozi Genocide Memorial museum
Meet  mountain Gorillas
Enjoy the view of mountain Gorillas, return to Kigali and departure. To book or inquire about the 2 days gorilla tour package, email us on info@rwandagorillasafaris.com
Tel +256 772 561508 / +256 701 728141
Detailed safari Itinerary:
2 Day Rwanda Tour, Gorilla Tracking, Volcanoes National Park
The 2 Days Rwanda tour offers you a great opportunity to see the critically endangered mountain gorillas in the wild, also visit Gisozi genocide memorial museum in Kigali as well as local markets for fruits and crafts. This depends on your flight schedules.
Day 1: Tour to Kigali Genocide Museum, transfer to Volcanoes National Park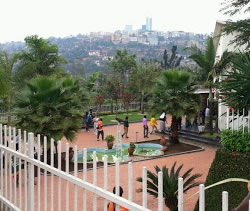 Your professional tour guide from African Jungle Adventures Ltd will meet you at your hotel in Kigali after breakfast, or he will pick you from the airport on arrival, start with a tour to Gisozi genocide memorial museum in Kigali, share stories about what happened in the place during the 1994 genocide in Rwanda. This is where over 250,000 people were buried in massive graves during the 1994 Genocide.
Retire for lunch in Kigali and start a 90 minutes drive north wards to Volcanoes National Park, a home to almost half of the world's last remaining population of the Mountain gorillas. The journey goes through beautiful rolling hills and winding roads that characterize much of Rwanda. Dinner and overnight at Virunga Lodge / Sabyinyo Silverback lodge / Mountain gorilla View lodge / Le Bambou Gorilla Lodge / Gorillas Hotel / Kinigi Guest House / Gorillas Nest Lodge / Muhabura Hotel/ Hotel La Palme among others.
Day 2: Gorilla Trekking Adventure, Departure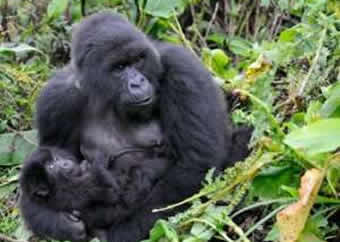 This is your day for an adventure for life time! Start early with breakfast at your hotel / lodge, then drive to the park headquarters in Kinigi where you will find other gorilla trekkers ready for action. Assemble (with packed water and lunch) for a briefing about gorilla trekking in the misty jungles of Volcanoes National park. The trek in search for mountain gorillas takes 2-7hours. This depends on their movement in the wild. Time allowed with these Gentle Giants is one hour, enjoy them feeding, playing and young ones swinging on tree.
Descend to your lodge for refreshment, late lunch and hit the road back to Kigali. Depending on your scheduled departure flight, you will either be transferred to Kigali Airport, or drop-off to your hotel in Kigali where the tour ends.
End of the trip
Safari Lodges in Volcanoes N.P
Luxury, Deluxe and Budget Lodges are available for you to choose depending on your interest and Budget.
Lodges include Virunga Lodge, Sabyinyo Silver back Lodge, Mountain Gorilla View Lodge, Le Bambou Gorilla Lodge, Kinigi Guest House, Muhabura Hotel and so on.