Safari Overview:
4 days Gorilla safari in Volcanoes National Park, Double Gorilla trekking, Murambi Cave exploration among others.
Brief itinerary:
Day 1: Kigali Airport – Transfer to Volcanoes National Park.
Day 2: First Gorilla trek
Day 3: Second Gorilla trek – Transfer to Lake Kivu
Day 4: Transfer to Murambi – Return to Kigali – Departure
End of the safari
Detailed Itinerary:
4 Days (3 nights) Gorilla Safari, Lake Kivu, Murambi caves
Day 1: Kigali city tour and transfer to Volcanoes national park
Breakfast and have a city tour. Visit the Gisozi genocide memorial museum, National Museum, Fruit markets among others. Have Lunch and transfer to the home of Gorillas. Dinner and overnight at Mountain Gorilla View Lodge / Gorillas Nest Lodge (Luxury), Hotel La palme/Le Bambou gorilla lodge (Deluxe) or Muhabura Hotel (Budget)
Day 2: Gorilla Trekking, Parc National des Volcans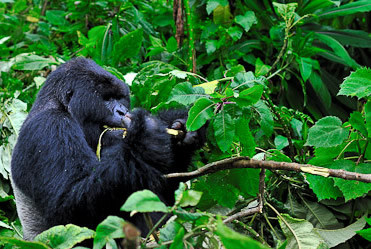 Breakfast and have briefing from the park rangers and thereafter, enter the forest to search for the mountain gorillas. The time taken while looking for the gentle giants is unpredictable however it ranges between 2-7 hours depending on the movement of the gorilla group. Enjoy the view and return to your lodge for relaxation as you wait for dinner and overnight as on day 1.
Day 3: Second Gorilla Trek, Transfer to Lake Kivu – Gisenyi
After breakfast, proceed with another gorilla trek, or we can do golden monkey tracking, or hike to Dian fossey tombs before transfering to Lake Kivu. Alternatively, we can have breakfast and immediately transfer to Lake kivu for afternoon boat trip. Have lunch and enjoy a boat cruise to have a chance of seeing bird species and different water animals on the lake shore. Return for dinner and overnight at Lake Kivu Serena Hotel (High class), Lake Kivu Gorilla Lodge (mid range) or Kivu Sun Hotel (Budget).
Day 4: Transfer to Murambi Cave and Transfer to Kigali
After breakfast, transfer to Murambi Cave which situated in Murambi sector. Murambi cave offers magnificent view of Lake Kivu and many islands. It is adventurous to enter into this cave and thereafter, have lunch en route as you transfer to Kigali where the tour ends.
Safari accommodation:
In Volcanoes N.P, you will stay at Mountain Gorilla View Lodge, Le Bambou Gorilla Lodge or Muhabura Hotel among others.
At Lake Kivu, you will stay at Serena Hotel, Kivu  Sun Hotel, Lake Kivu Gorilla Lodge, Paradise Malahide among others.