Trip overview:
6 days (5 nights) Chimp and Gorilla trek in Rwanda.
Toured parks: Nyungwe Forest National Park and Volcanoes N.P
Brief itinerary:
Day 1: Arrival – Transfer to Nyungwe Forest N.P
Day 2:Chimp trek – Canopy walk
Day 3: Transfer to Lake Kivu
Day 4: Biking – transfer to Volcanoes N.P
Day 5: Gorilla trek – afternoon relaxation
Day 6: Dian Fossey Tomb tour – Departure.
End of the trip
To book or inquire about the 6 day gorilla & Chimp tour package, email us on info@rwandagorillasafaris.com
Tel +256 772 561508 / +256 701 728141

Detailed Itinerary:
6 Day Rwanda Gorillas Trek, Chimpanzee Safari, Boat cruise
Day 1: Arrival – Transfer to Nyungwe Forest (Home of Chimpanzees and other primates)
Upon arrival at Kigali Airport, your driver / guide will be waiting for you, lunch in Kigali and then    transfer you to Nyungwe forest Nation Park which is made up of a variety of habitats including montane forests, bamboos, grasslands, and swamps. This is a home to 13 primate species such as Chimpanzees, endangered Golden monkeys, Blue Monkeys, colobus, red tailed monkeys and grey checked mangabeys. There are also about 300 bird species. Relax in the evening as we wait for dinner and Overnight at dinner and overnight at Nyungwe Forest Lodge, Nyungwe Hill Top view or Gisakura Guest House.
Day 2: Chimpanzee Tracking and afternoon colobus monkeys or Canopy walk.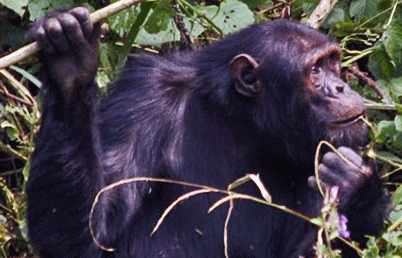 Breakfast and go for chimpanzee briefing and thereafter, enter Nyungwe forest in the company of ranger guides in search for colonies of Chimpanzees and many monkey species plus beautiful forest birds among others. Back to your lodge for lunch, relaxation as preparing for any one of the above mentioned activities of your choice, in the afternoon. Retire for dinner and overnight at your lodge.
Day 3:  Transfer to Kibuye & boat to Gisenyi.
Breakfast, transfer to Kibuye for Boat cruising to Gisenyi, Visit some beautiful islands on the Lake Kivu, enjoy the view of the beautiful lake and take photographs, return for dinner and overnight at Lake Kivu Serena Hotel (Luxury) or Paradise marahide Hotel or Stipp Hotel on the shores of Lake Kivu.
Day 4: Morning Biking (2- 3 hours) transfer to Volcanoes National Park
Early morning breakfast, enjoy biking 35 kms along Lake Kivu, return for lunch at Lake Kivu Serena Hotel, transfer to Volcanoes National Park. Dinner and overnight at Mountain Gorilla View Lodge (Luxury), Le Bombou Gorilla Lodge (Deluxe) or Kinigi Guest House (Budget)
Day 5: Gorilla Tracking
Breakfast and head to the park headquarters with packed lunch & water for a briefing about the dos and don'ts while with the gorillas then proceed to track the gorillas. Time take searching for these Gentle giants ranges between 2-8hours depending on the movement of gorillas. Enjoy the view of the gorillas for a maximum of one hour and take photos. Return to the lodge for relaxation as you wait for dinner and overnight.
Day 6: Dian Fossey tombs tour
After breakfast, you will go to tour the tombs of the great lover of Gorillas (Dian Fossey), read more about her achievements towards the preservation of Gorillas. Other optional activites include golden monkey tracking, adventurous trek to Mt. Bihsoke / Vishoke or Musanza caves exploration. Return to your lodge for lunch and leave for Kigali for a city tour, visit the Gisozi genocide memorial site, local art & craft shops, do last minute shopping before heading to the airport for your departure flight.
Safari lodges/ Hotels:
Nyungwe Forest N.P: Nyungwe Forest Lodge, Nyungwe Forest Camp, Peace Guest House, Nyungwe Hill Top View Hotel, Gisakura Guest House and so on.
On Lake Kivu: Kivu sun Hotel, Kivu Serena Hotel, Lake Kivu Gorilla Lodge, Paradise Malahide among others.
In Volcanoes N.P: Virunga Lodge, Sabyinyo Silver back Lodge, Mountain Gorilla View Lodge, Le Bambou Gorilla Lodge, Villa Gorilla and many more.
Related tours:
 6 days Uganda Gorilla & Chimp trek
 Uganda Rwanda combined