Size: Bwindi Impenetrable National Park is 321km2
Altitude:  Bwindi impenetrable national park is at 1,160m – 2,607m above sea level.
Bwindi was gazetted as a National Park in 1991 and declared a UNESCO Natural World Heritage Site in 1994. The Mubare gorilla group was the first to become available for tourism in Uganda in April 1993. Nine groups are now habituated for tourism, and one for research.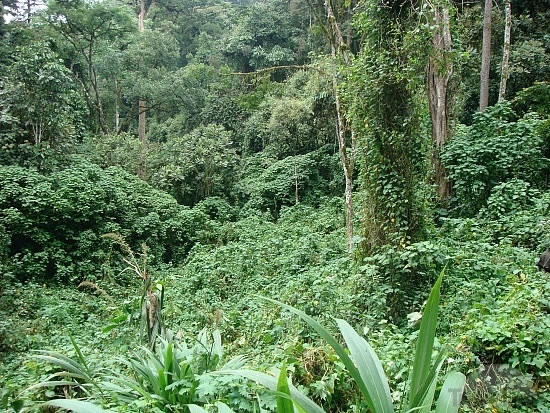 Bwindi Impenetrable National Park lies in southwestern Uganda on the edge of the Rift Valley. Its mist-covered hillsides are blanketed by one of Uganda's oldest and most biologically diverse rainforests, which dates back over 25,000 years and contains almost 400 species of plants. More famously, this "impenetrable forest" also protects an estimated 320 mountain gorillas – roughly half of the world's population, including several habituated groups, which can be tracked.
This biologically diverse region also provides shelter to a further 120 mammals, including several primate species such as baboons and chimpanzees, as well as elephants and antelopes. There are around 350 species of birds hosted in this forest, including 23 Albertine Rift endemics.
The neighboring towns of Buhoma and Nkuringo both have an impressive array of luxury lodges, rustic bandas and budget campsites, as well as restaurants, craft stalls and guiding services. Opportunities abound to discover the local Bakiga and Batwa Pygmy cultures through performances, workshops and village walks.
Habituated Gorilla Families in Bwindi National park
There are over 10 habituated gorilla groups in Bwindi impenetrable National park and among these include Mubare group, Rushegura, Habinyanja, Bitukura, Kyaguriro, Oruzogo, Nkuringo, Mishaya, Nhosngi, Kahungye and Businjye among others.
Lodge options in Bwindi national park
Among the accommodation options include Mahogany springs lodge, Silverback lodge, Gorilla Sanctuary (Gorilla Forest camp), Buhoma lodge, Buhoma community rest camp, Gorilla resort, Gorilla Mist camp, Gift of Nature Lodge, Lake Mutanda Lodge, Chameleon Hill, Nkuringo gorilla camp, Clouds mountain gorilla lodge, Bakiga Lodge, Nshongi Gorilla Resort and many others.
Related Articles