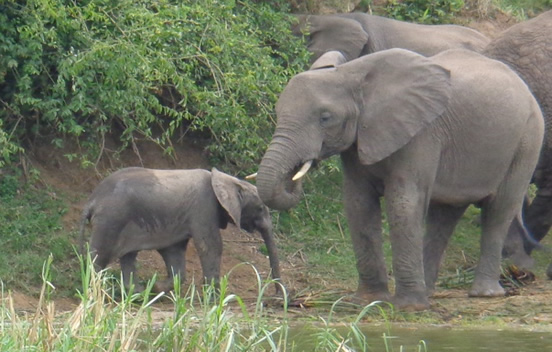 This is the second largest National park in Uganda after Murchison falls. The park is strategically located south western region of the country and easily accessible before you reach Kasese district.  The park is dominated by savannah grassland with a cassia scattered tress.
Topographically, Queen Elizabeth National park is generally plain enabling visitors to view wide range while on their Game drives. Queen Elizabeth national park is well known for hosting a variety of  wildlife  and among which include elephants, Antelope species, warthogs ,Hippos, Buffaloes, Baboons, water bucks, monkey species, Chimpanzees found in Kyambura gorge, Climbing lions seen swinging on the acacia trees  found in Ishasha sector, Buffaloes, Crocodiles to mention but a few.
Expect to be welcomed by a variety of bird species and these include resident birds and non residents which visits Uganda during winter periods in Europe.  The attracting and colorful feathers and sound made during day time.
Wonderful water bodies and these include Lake Edward and George which are connected by the kazinga channel on which boat cruises takes place. It is adventurous to sail on Kazinga channel because you are rewarded with the sight of the amazing water loving animals and birds. The boats on Kazinga channel provide a plate form for clear viewing and photography.
Activities carried out in the park include; game drives, Boat cruises, Chimpanzee and primate tracking, nature walks and night game drives to see nocturnal like leopards and others. The park can be accessed by road form Kampala which is approximately 4 hours drive and approximately 45 minutes from Entebbe international Airport.
Below is the proposed itinerary for 3 days wildlife safari tour to Queen Elizabeth national Park
3 DAYS QUEEN ELIZABETH NATIONAL PARK WILDLIFE TOUR, UGANDA   
Day 1:  Transfer to Queen Elizabeth National Park
Transfer from Kampala to southwest across the country, through Mbarara town, the home to the impressive long horn Ankole cattle. On the way see the royal drum makers, stand on the Equator, and bargain at the roadside markets. On arrival at the park, keep an eye out for game drive along the Channel track welcomes you into this park as we proceed for check-in at your lodge. The Channel track runs parallel with the Kazinga channel as you drive slowly towards the Katunguru gate.  Expect to see warthogs, bushbucks, waterbucks and elephants and many more. Afterwards you drive back to your lodge through large expanses of savannah grasslands as you spot some wildlife en route, dinner and overnight at Mweya Safari Lodge, Queen Elizabeth Safari Lodge, Enganzi lodge, Twin Lake Lodge or Bush Lodge.
Day 2: Early morning game drive in Queen Elizabeth National Park and afternoon boat cruise
After breakfast, enjoy early morning game in the northern part of the park on the Kasenyi Track in search of lions, elephants, solitary buffaloes drive to see lions, leopard, elephant, buffalo and many more. This is the best moment to see the cats in action owing to the vast population of Uganda Kobs.  Have an excellent chance to view just about every animal here at very close range. Return to the lodge for relaxation before heading out for a launch trip on the kazinga channel which connect Lake Edward and George. This will give you the opportunity to view wildlife up close and among which include the hippo's huff and spray at a mere feet away from the boat, buffalo linger in the shallows. The shores of the channel are also home to an array of birds including pink backed pelicans, pied and malachite kingfishers, saddle billed stork and so on. Return to your Lodge for dinner and overnight.
Day 3: visit the crater lakes region
Breakfast and take a visit to the crater lakes region for scenic view. Return to your lodge, check out and return to Kampala with en route lunch. Arriving early in the evening for dinner and overnight at your preferred Hotel.
End of the safari
Related Articles
Safari Lodges in Uganda and Rwanda