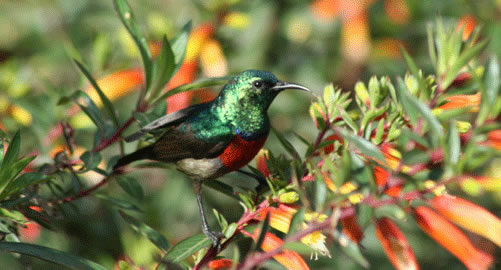 Rwanda is one of the most endowed countries with birds. The country is gifted with forests and water bodies where a variety of birds are seen. The country protects birds with in and those which visit her from out side countries. Rwanda's bird sanctuary includes:
Nyungwe forest protects approximately 310 bird species, 26 of which are endemic to the Albertine Rift Valley. It is one of the best bird watching destinations in Africa. Some of the birds that can be seen here include the Great Blue Turaco, the Crowned Hornbill and the Blue-Headed Sunbird.
Birds in Nyungwe forest include Great Blue Turaco , Ruwenzori Turaco , Black-billed Turaco, Ross's Turaco, Black and  White Casqued Hornbill, Crowned Hornbill, Crowned Eagle Forest Buzzard ,Handsome Francolin, Olive Pigeon, Cinnamon-breasted Bee-eater, White-headed Wood Hoopoes, Blue-Headed Sunbird, Stuhlmann's Sunbird, Black-headed Waxbill , Olive Thrush, Slender-billed Chestnut Wing Starling, White-necked Raven, African Saw-wing, Mountain Wagtail, Cape Wagtail, Red-throated Alethe ,White-starred Robin , Equatorial Akalata  and so on.
Lake Nyarutarama, It is found in Nyarutarama in Kigali. There is a little lake here which has been reported. For an inner city location this is a little gem of a birding spot. For the resident it is convenient and always a pleasure and for visiting birders new to Rwanda, it provides a good introduction to some local birds. Here, visitors are expected to see flanked Barbet, Yellow-billed Duck, Bat Hawk, African Hobby, Swamp Flycatcher, Red-chested Cuckoo, Red-backed Shrike, Little Bee-eater, Cinnamon-chested Bee-eater, Squacco Heron, Sunbirds, Weavers, Cisticolas among others.
Akagera National Park; this is a wonderful little park with stunning scenery and a wide range of habitats from lakes through swamps, flood plains, bush, slopes and plateaus. Bird lovers can see more common species of bird on the drive in and among which include Spur-winged Goose up a tree, little bee eaters, open billed stock, marabou stock   black headed gonolek, robin charts, Common Scimitar-bill, Blue-naped Mousebird among others.
The plains reward visitors with the view of game and birds. Including the teams first Black-bellied Bustard in Rwanda and the teams first Slate-coloured Boubou. Skimming the long grass and resting in small shrubs found small flocks of Banded Martin and in a small pool we saw what might have been a Marsh Sandpiper, nearby a selection of plovers including Crowned Lapwing.
Lake Muhazi & Kayonza; Birding is all about getting there early and view a variety of birds. Jambo beach unfortunately has a captive Grey Crowned Crane (not counted). Expect to see Pied Crows, Red Eyed Doves, Bronze Sunbirds, Yellow Backed Weavers, and Common Bulbuls, Speckled Mouse birds and Tropical Boubou among others.
Gisakura, while on community walk and another nice feeding party in the gardens of the ORTPN Guesthouse. Expect to encounter White-tailed Blue Flycatcher, Dusky Flycatcher, White-eyed Slaty-Flycatcher, Northern DC Sunbird, Paradise-Flycatcher, Cinnamon-chested Bee-eater, Western Citril, Black-billed Weaver, Collared Sunbird and Brown-throated Wattle-eye.