Rwanda Chimpanzees and Colobus Monkey Tracking Safari Colobus Monkeys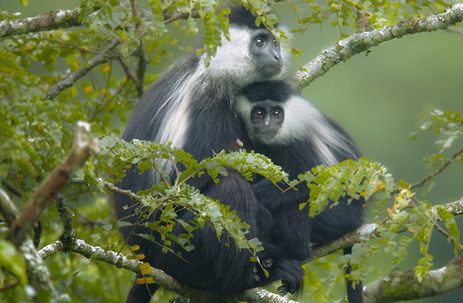 These are one of rarest primates in Africa however; we can find them in Nyungwe forest National Park in Rwanda. Along side colobus monkeys, Nyungwe forest also protects other primates like chimpanzee, blue monkey, vervet monkey, Grey-cheeked mangabey, dent's monkey, L'Hoest's monkey which are commonly seen along the road, Red- tailed and so on. Therefore Nyungwe forest national park is the home for 13 primate species.
A young colobus monkey clings to its mother, Nyungwe forest,  Rwanda. The arboreal colobus monkey almost never descends to the ground, preferring to use branches as springs to catapult themselves over several of meters. Bush meat trade, habitat destruction and logging are all grave threats to this African.
The park is highly visited by tourists wanting to view colobus monkeys in their natural habitat along side other primates. Below is the 3 days colobus monkeys and chimpanzee tour in Rwanda.
4 Days (3 nights) Colobus Monkeys & Chimpanzees tour ( primate safari)
The colobus monkeys and chimpanzee tracking and terrain in Rwanda are very difficult and you must be of a very good fitness in order to gain the most from this experience. While searching for the Colobus monkeys and chimpanzees in the forest, expect to encounter other apes like the habituated black and white colobus troops which are much easier to view along with a relaxing visit to the visitor center.
Day 1: Transfer to the home of 13 primates  (Nyungwe National Park)
Our safari guide will meet you on arrival at Kigali International Airport or at the Hotel in Kigali and proceed to Nyungwe Forest National Park. Arrival at Nyungwe Forest for relaxation at Nyungwe forest lodge, peace Guest House or Gisakura Guest House as you wait for dinner and overnight.
Day 2: Colobus Monkey tracking –  Afternoon relaxation
After breakfast, you will report for briefing at the park headquarter. Thereafter, transfer in a company of ranger guides to start searching for the colobus monkeys in mist. Learn about the different tree species found in this great forest of Africa, birds as you are free to ask Questions you feel like and the ranger guide are always ready to  feed you with the necessary answers.
Day 3: Chimpanzee Trekking in Nyungwe Forest National park, Rwanda.
Have a cup of tea/ coffee, transfer to the briefing point for dos and don'ts while with the chimpanzees. Proceed for chimpanzee tracking in Nyungwe forest which can take any thing from a few hours to a full day depending on the movement of the chimpanzees' families. Thereafter, return to your Lodge for relaxation as you wait for dinner and overnight at your previous Lodge.
Day 4: Back to Kigali – Kigali city safari

Breakfast at leisure then transfer to Kigali for a city tour including Gisozi genocide memorial site and shopping of African art and craft to take some souvenirs back home .prepare to  drive to Kigali International Airport for  your departure flight back home.
End of the safari