Discover the Beautiful Lakes and Beaches in Rwanda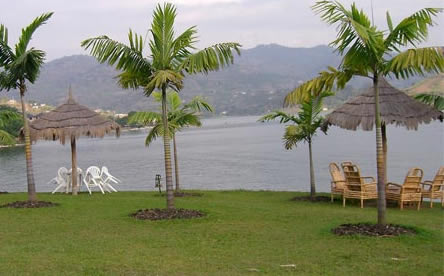 Lakes and Rivers add beauty to Rwanda and supplement other tourist attractions. Lakes like Kivu really provide visitors with ascenic view and suitable for photography. Among the lakes in Rwanda include Lake Kivu. The lake is situated in western region of the country; it is the largest of numerous fresh water bodies that shimmer in the valleys of Rwanda.
The best beach is in Gisenyi with Serena luxury hotel right on the beach. In Kibuye however, being at Bethanie guesthouse overlooking kivu waves hitting the nearby island is a wonderful feeling. The lake is a favorite get-away for Rwanda's residents—relaxing days on the beach, water sports including kayaking, canoeing and windsurfing, and beach volleyball are among the activities that families and friends enjoy while at the shores of Lake Kivu. Take a leisurely ride along the western shoreline of the country on the "Munezero" tourist boat from Gisenyi to Kibuye to Cyangugu, a trip surely never be forgotten in your life.
Wonderful of all are the beautiful twin Lakes; Burera and Ruhondo which are situated in the northern region of Rwanda and close to the home of Home of mountain Gorillas (Volcanoes National Park) and near the border with Uganda. The lakes provide deep blue waters ringed by steep hills and tall waterfalls. These twin lakes are great spots to be visited after watching the gorillas in the Rwandan mountains.
Lake Muhazi is situated few hours from Kigali city, is one of the country's scenic treasures and easily reached. This tranquil cover the eastern province of Rwanda is ideal for a day trip away from the bustle of the city where you can eat fresh fish while watching the sun set over the small boats dotting the lake.
Akagera National Park is endowed with ten lakes and among which include Lake Ihema on which boat cruises take place by visitors on their wildlife safari in this park. While on boat trip in Akagera, expect the reward of viewing Elephants, buffaloes, warthogs, waterbucks, common or cape eland, roan antelope, hippopotamuses , sitatunga, burchell's zebras, orive common baboons, giraffes, crocodiles, little bee eaters, open billed stock, marabou stock   black headed gonolek, robin charts among others. Some water sources in Akagera are used as watering holes for the animals and others havens for birdwatchers—the rare shoebill stork calls.
Away from the main resorts, Lakes in Rwanda offer visitors rewarding glimpse into ancient African lifestyles. Here, fishermen ply the water in dugout canoes unchanged in design for centuries, while colourfully dressed ladies smoke traditional wooden pipes and troubadours strum sweetly on stringed iningire (traditional 'guitars'). And, the birdlife is fantastic: flotillas of pelicans sail ponderously across the open water, majestic crowned cranes preen their golden crests in the surrounding swamps, while jewel-like malachite kingfishers hawk silently above the shore.
Beaches
Rwandan beaches are ideal for relaxing as they have a calm atmosphere and excellent all the year around. Visitors spend entire relaxing day, lazing around and enjoying with your family and friends. This Rwandan beach is excellent and has many swaying palm trees and hotels near by. This beach has sauna bath, sun tan, swimming and beach club facilities and every year thousands of tourists visit this place.
Gisenyi, the most developed of these resorts, lies less than an hour's drive from the Parc des Volcans, and is set on a sandy beach lined with swaying palms and colonial-era hotels that exude an atmosphere of tropical languor. At Kibuye, to its south, tourist activities are centered on a modern lakeshore guesthouse overlooking pine-covered hills seemingly transplanted from the Alps.
Different again is Cyangugu, close to Nyungwe Forest, whose more subdued tourist development is compensated for by a stirring setting of curving inlets winding into narrow valleys.
The Gisenyi resort is far away from the din and bustle of the town and hence is excellent for relaxing and spending idle hours in nature's lap. As a result the Rwandan beach on Lake Kivu is a favorite with most wealthy people of Rwanda and tourists.
On Kibuye, tourists can enjoy the experience of a modern lakeshore guesthouse. This Rwandan resort on Lake Kivu provides an enjoyable experience to all tourists and has stunning beaches.