Mountain Gorilla View Lodge in Volcanoes National Park Rwanda
Why to stay at Gorilla view Lodge?
The lodge is situated around 15-20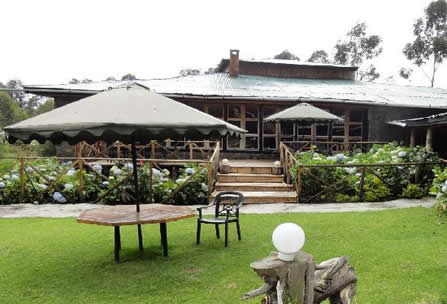 minutes drive from Volcanoes National Park headquarters. At the head quarter, briefing about the dos and don'ts while with mountain gorilla takes place.
What is special about the lodge?
There are 30 individual stone and thatch cottages at Mountain Gorilla View, which although a little sparse and characterless, are large, clean, comfortable and come with private verandas, en suite bathrooms, tea and coffee making facilities and a very welcome fireplace in the lounge, which is lit by the lodge's attentive staff in the evenings. At the fire place, visitors socialize with each other while enjoying some drinks.
Recent building work Mountain Gorilla View has seen the completion of the restaurant, bar and dining area. A sprawling bungalow like building, it is in design classically upcountry, its flagstone floors and maroon coloring typical of the style. A large plastic gorilla sits at the restaurant's entrance, its vaguely bizarre presence offset by what can only be described as being one of the warmest environments you're likely to encounter. The food is delicious, the portions large, and the service – from restaurant floor to kitchen – is quite wonderful.
What are some of the activities enjoyed while at this lodge?
While at Mountain Gorilla View lodge, visitors can enjoy gorilla trekking, golden monkey tracking, bird viewing, nature rambles and cultural excursions.
Below is the 3 days Rwanda Gorilla safari, 2 Nights at Mountain Gorilla View Lodge
Itinerary;
Day 1: Arrival and Cultural Tour:
Kigali is a wonderful city offering you a rich history and cultural insights. Provided you arrive early, you will have a countryside tour around Kigali where you will end at the Genocide Memorial. Dinner and overnight at Flame Tree Village in Kigali managed by Mt. Gorilla View Lodge / 3B Hotels Ltd
Alternatively, we can transfer to Volcanoes National Park this evening (2hrs drive) depending on the time we have for overnight at Mountain Gorilla View Lodge.
DAY 2:  The memorable Gorilla tracking
After a very early morning break fast, you will be picked from your Hotel in Kigali by 4:30am to the home of mountain gorillas (PNV). Be at the briefing point by 7:00am for the tips concerning gorilla tracking. In a company of senior ranger guides, move into the jungle and start searching for the intelligent, gentle apes. Stay amidst gorillas for a maximum of one hour, take photos. Return to Mountain Gorilla view lodge  for relaxation as you wait for dinner and overnight.
DAY 3: Golden monkey tracking – Departure
After breakfast, you will go to track the golden monkeys in the bamboo forest. Return to the lodge for lunch and leave for Kigali, do last minute shopping before heading to the airport for your departure flight.
End of the trip