Explore Uganda + Rwanda on this 12 Day Gorilla Expedition Safari. Trackthe mountain gorillas twice,  enjoy fantastic boat cruise, big game viewing, cultural visits, community tours etc.
Trip over view:
This is a 12 days ( 11 nights) Rwanda – Uganda combined safari
One Gorilla trek in Rwanda (Volcanoes N.P)
Visit Diane Fossey tomb (Volcanoes N.P)
One Gorilla trek in Uganda (Bwindi N.P)
Chimp trek in Uganda (Kibale N.P)
Birding experience
Cultural excursion
Game drives.
To book or inquire about the 1 day gorilla tour package, email us on info@rwandagorillasafaris.com
Tel +256 772 561508 / +256 701 728141
Safari Detailed Itinerary
12 Days Rwanda and Uganda Gorilla Expedition – African safari
The safari starts in Kigali (Rwanda) and ends in Entebbe (Uganda). You will have great opportunities to encounter mountain gorillas in two countries to allow you make comparison. This trip will also expose you to excellent birding, incredible primate trekking experience, boat trips, Cultural Excursions, City tours and big game drives among others.
Day 1: Arrival and transfer to Parc National des Volcans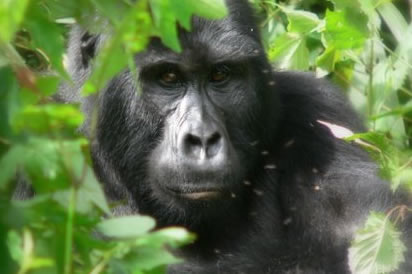 On arrival at Kigali international Airport, you will be welcomed by our safari guide who will transfer you to volcanoes National park. Upon arrival in Kigali; you will meet your driver guide at the airport and then transfer to Parc National des Volcans. If time allows, we can take a tour in Kigali city; visit Genocide memorial site, local markets, local art and crafts among others. The 2 hours journey to PNV goes through the beautiful terraced hillsides that characterize much of Rwanda's landscape. Dinner and overnight stay in Kinigi guest house or Mountain Gorilla's Nest.
Day 2: Gorilla tracking experience in Volcanoes national park
After breakfast, we shall move to the briefing pont with our packed lunch, water, tracking gears and so on. Time taken while searching for the gentle giants ranges between 2-6 hours and depend on the movement of the gorilla groups. You will stay with these giant apes for 1 hr for observation and photographing. Return to your lodge for relaxation as you prepare for the community walk, we can have a walk to nearby communities, interact with them and learn more about their culture. Dinner and overnight stay in Kinigi Guest house, Mountain Gorilla view Lodge or Le Bambou Gorilla Lodge.
Day 3: Visit to Diana Fossey's Graves
Breakfast is followed by the excursion to the grave of Diana Fossey, the American primatologist. This is situated at the former Karisoke Research Center where Diana spent about 20 years studying and habituating the Mountain Gorillas. The trek to the site is quite spectacular; it goes through bamboo forest and thick Afro-montane habitats, criss-crossed trails with tracks of forest buffalo and elephant. You will be exposed to several primates and birds as you make our way up and down to Karisoke, nestled between the volcanic peaks of Karisimbi and Visoke. Dinner and overnight at Kinigi Guest House, Le Bambou Gorilla Lodge or Mountain gorilla view Lodge.
Day 4: Cross to Uganda – Lake Bunyonyi
Have breakfast, depart PNV for Lake Bunyonyi in Uganda; famous for its beautiful islands and prolific bird life, settle into Arcadia Cottages and relax as we wait for lunch and thereafter, we shall join a canoe ride in the after noon that expose you to excellent bird watching, and visit the beautiful Islands of Lake Bunyonyi. Dinner and overnight at the Lodge.
Day 5: Lake Bunyonyi – Bwindi Impenetrable Forest
Breakfast and drive through the Switzerland of Africa, with the roads winding through many hills and valleys, with distant views of the volcanoes. The journey rewards you with beautiful scenic viewing. Arrival for lunch and thereafter, Take an evening walk in nearby Batwa (Pygmies) communities for entertainment and learn more about local cultures. Return for dinner and overnight at Mahogany Springs Lodge, Gorilla Mist Camp or Gift of natural.
Day 6: Gorilla tracking Expedition Uganda
After early breakfast, we shall proceed to park offices with packed lunch for a briefing about the 'Dos' and 'Don'ts' while with gorillas. Tracking can take 2-9 hours depending on their movements. Tracking involves walking up steep and densely forested hills before finally coming across the gorillas camouflaged in the vegetation. You will stay with these Giant apes for 1 hour for observation and photography. Relax in the evening as we wait for dinner and overnight at Mahogany Springs Lodge, Gorilla Mist Camp or Wagtail Eco Safai Camp.
Day 7: Bwindi Forest national park – Queen Elizabeth National park
Breakfast and set off to Queen Elizabeth National Park. The journey takes you through beautiful rolling hills and the Ishasha sector which is known for the tree climbing lions located in the south of Queen Elizabeth National park. Arrival for lunch at Mweya safari lodge, Enganzi Lodge or Bush Lodge.  Proceed for a launch cruise along the Kazinga channel, famous for the highest concentration of Hippos in Africa. Expect to see a variety of bird prolific with over 610 species and hundreds of Nile crocodiles. Also expect to see herds of elephants and buffaloes drinking water on the channel. The boat provides a clear platform for photographing. Return to our Lodge for dinner and overnight.
Day 8: Chimpanzee trekking and afternoon game drive
Breakfast and drive to Kyambura Gorge nearby to track the fast moving and elusive wild chimpanzees, one of man's closest relations. Kyambura Gorge habours the only family of habituated chimpanzees in Africa. However, it should be noted that, viewing chimps is unpredictable but the walk is enchanting. Other primates include Red tailed monkeys, Vervet, Black and White colobus monkeys, olive baboons and Giant forest hog. Return to the lodge for lunch and proceed for an evening game drive along Mweya peninsular before sunset. Dinner and overnight at Mweya Safari Lodge, Enganzi Lodge or Bush Lodge.
Day 9: Queen Elizabeth – Kibale Forest National Park
Breakfast and thereafter, we shall enjoy morning game drive to Kasenyi plains to catch up with early raisers and predators returning to their hideouts. You will be exposed to large variety of animals like Elephants, Buffaloes, Warthogs, and several Antelope species, Lion, leopard and many more. Return to your lodge for full breakfast and relax as we wait for lunch.
Depart Queen Elizabeth for Kibale forest following the Rwenzori ranges. The journey will reward you with big game viewing en-route. Dinner and overnight at Ndali lodge, Mountain of the moon Hotel or Chimpanzee Guest House.
Day 10: Life time experience chimpanzee tracking
Early morning breakfast and assemble at Kibale Park headquarters for a briefing on chimpanzee trekking. The trekking will expose you to other primates like Colobus Monkeys Giant forest hog, Vervet, red-tailed monkeys, the Grey Cheeked Mangabeys, Olive Baboons, and over 350 bird species. Return for lunch; relax as we wait for an evening cultural walk to nearby communities. Dinner and overnight at your lodge.
Day 11: Birding in Bigodi swamps – Retrn to Kampala
Breakfast transfer to Bogodi swamps after breakfast for a nature walk. Here you will see several antelopes like the statungas, 8 primates' species and 200 bird species including the rare shoebill. Return to your lodge, relax as you wait for lunch and set-off to Kampala with lots of scenic viewing en-route. Dinner and overnight stay at Kampala Serena Hotel, Cassia Lodge or The Lodge.
Day 12: Visit Kampala' s tourist attraction – Departure
Depending on your time of flight, you may have a city tour in Kampala, visit Kasubi Tombs, Bahai temp or Nakasero fruits Market before connecting to Entebbe International Airport for your scheduled flight.
End of the Safari

Safari Lodge/Hotels
There are many safari Lodges in Uganda and Rwanda. Accommodation ranges from Budget to Luxury and visitors are free to choose their favorite depending on their  Budget
Meal plan: Full board
In Volcanoes N.P: Mountain Gorilla View Lodge, Gorilla Nest Lodge, Sabyinyo Silver back Lodge, Virunga lodge, Kinigi Guest, Muhabura Hotel and so on.
In Bwindi N.P: Mahogany Spring Lodge, Nkuringo Gorilla Camp, Chameleon Hill Lodge, Gorilla Mist Lodge, Gorilla Valley Lodge, Wagtail Eco Safari Lodge, Gift of Nature Lodge among others.
In Queen Elizabeth N.P: Mweya Safari Lodge, Enganzi Lodge, Twin Lake Lodge, Bush Lodge and so on.
In Kibale Forest N.P: Ndali Lodge, Kyaning Lodge, Chimpanzee Guest House, Mountains of the moon Hotel and so on.
In Kampala: Kampala Serena Hotel, Tourist Hotel, Sheraton Hotel, Speke Hotel, Cassia Lodge, The Lodge and many more.