4 day gorilla safari with 2 mountain gorilla treks in Bwindi Impenetrable Forest National Park or Mgahinga National Park in south western Uganda and Volcanoes National Park in Rwanda.
Safari Overview:
This safari has been prepared to enable visitors experience gorilla tracking in Uganda and Rwanda so as to make comparison. The trip starts from Uganda (Entebbe) and Ends in Rwanda (Kigali).
-Trek Uganda Gorillas (Bwindi Impenetrable Forest N.P)
-Trek Rwanda Gorillas (Volcanoes N.P)
Brief Itinerary:
Day 1: Entebbe – Bwindi Impenetrable Forest N.P
Day 2: Gorilla trek – Cultural tour
Day 3: Cross to Rwanda – Volcanoes N.P
Day 4: Gorilla trek – Departure
End of the trip
To book or inquire about the four days gorilla tour package, email us on info@rwandagorillasafaris.com
Tel +256 772 561508 / +256 701 728141
Detailed Itinerary:
4 DAYS (3 NIGHTS) UGANDA RWANDA GORILLA SAFARI ADVENTURE
DAY 1:  HIT THE ROAD TO BWINDI NATIONAL PARK (home of Mountain Gorillas)
After breakfast, Set off for Bwindi Impenetrable National Park with our tour guide. You will have a stopover in Mbarara town for en route lunch; continue with the journey to Bwindi Impenetrable National Park for dinner and overnight at Nkuringo Gorilla Camp / Lake Mutanda Lodge, Gorilla Mist Camp, or Gift of Nature Lodge. (FB)
DAY 2: TREKKING GORILLAS IN THEIR NATURAL HABITAT AND AFTERNOON CULTURAL WALK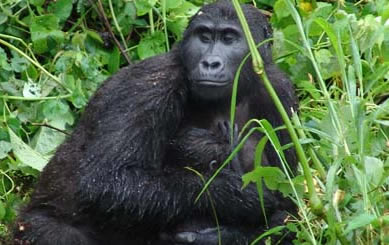 Breakfast, with your packed lunch, bottled mineral water, tracking gears and so on, move for briefing from your game ranger with whom you will move through Bwindi impenetrable forest for gorilla tracking. This will approximately take 2 to 6hrs or a whole day depending on the movement of the gorilla group. Stay with Gorillas for a maximum of one hour and take photos. Return to your lodge for late lunch; relax as you prepare to visit the Batwa pygmies (short people) community where you will be entertained by this interesting group of people called the keepers of the forest. Learn more a bout the culture among others.  Descend to your lodge for dinner and overnight. (FB)
DAY 3: CROSS TO RWANDA –VOLCANOES NATIONAL PARK (home of mountain Gorillas)
After early morning breakfast, Cross through cyanika boarder to Rwanda. Enjoy the scenic drive through the land of a thousand hills to volcanoes National park. Enjoy the scenic drive through the rolling hills of Rwanda. Stopover at the beautiful lakes of Burera and Buhondo for scenic view and take photographs.  Continue to Volcanoes National Park for relaxation as you wait for dinner and overnight at Mountain Gorilla View Lodge/ Le Bambou Gorilla Lodge or Kinigi Guest House.
DAY 4: GORILLA TRACKING
Breakfast and head to the park headquarters with packed lunch & water for the briefing about the dos and don'ts while with the gorillas, and then proceed to track the gorillas. Time take searching for these Gentle giants ranges between 2-6hours depending on the movement of gorillas. Return to your Lodge, check out and transfer to Kigali international Airport for your flight back home.
End of the safari
Email: info@rwandagorillasafaris.com

Accommodation:
Luxury Lodges in Bwindi include; Mahogany Springs Lodge (Buhoma trail), Chameleon Hill Lodge (Rushaga), Ruhija Gorilla Lodge (Rihija trail).
Deluxe Lodge includes;Silver Back Lodge (Buhoma Gorilla trekking trail), Gorilla Mist Camp (Ruhija) or Nsongi Gorilla Camp (Rushaga).
Budget Lodges Include; Buhoma Community Rest Camp (Buhoma), Gift of Nature Lodge (Ruhija) or Wagtail Eco Safari Camp (Rushaga).