Safari Overview:
8 days ( 7 nights) Combined Rwanda and Uganda Gorilla tour takes you to Volcanoes N.P, Bwindi Impenetrable National Park and Queen Elizabeth N.P.
Trek Uganda Gorillas and Rwanda Gorilla in Bwindi forest and Volcanoes N.P respectively.
Wonderful Game drive in Queen Elizabeth Uganda.Email: info@rwandagorillasafaris.com
Detailed Itinerary:
8 Days Rwanda Uganda Combined Gorilla Tour / Wildlife Safari
Day 1: Arrival at Kigali airport- Rwanda
On your arrival in Rwanda, you will be met by our safari guide who will transfer you to your accommodation in Kigali, dinner and overnight at Serena Hotel Kigali, Manor Hotel, Chez Lando Hotel.
Day 2: Enjoy a Kigali City exploration and then transfer to Volcanoes National Park
Breakfast at your Hotel is followed by a city tour in Kigali. During this excursion, you will visit Gisozi Genocide Memorial Center, local art and craft shops as well as local markets. We shall enjoy lunch and thereafter, drive northwards through the amazing rolling hills characterized by much of Rwanda. Arrive early evening and relax at the lodge as you wait for dinner and overnight, dinner and overnight at La Bambou Gorilla Lodge, Muhabura hotel or Mountain Gorilla View Lodge.
Day 3: Gorilla tracking experience in volcanoes National Park
Have early morning breakfast or a cup of tea or coffee and pull together at the park head offices for registration and briefing by the ranger about gorilla tracking in Rwanda. After briefing, you will be allocated groups. Mountain Gorilla trekking is a life time experience and entails going through solid and dicey tropical rain forest. View and hang about with gorillas is an hour for watching and picture-taking. Enjoy your dinner and overnight at the Lodge as on day two.
Day 4: Cross over to Uganda
Wake up at your own pace on this day, have a late breakfast, check out of the lodge and start your journey to the home of mountain Gorillas in Uganda. We shall have stopover to enjoy the view of the beautiful twin lakes of Buhondo and Burera.  You will cross to Uganda via Cyanika boarder to Bwindi impenetrable forest national park through Kigezi section, 'the Switzerland of Africa'. The journey to Bwindi Impenetrable forests National Park will take you about 4-5 hours. Arrive around lunch hours and take lunch at the lodge. Have dinner and overnight at Wagtail Eco camp, Gift of Nature Lodge, Gorilla Mist camp or Mahogany Springs.
Day 5: Trekking of Gorilla experience in Uganda (Bwindi impenetrable National Park)
Like in Rwanda, we shall begin the day with breakfast, have breakfast and thereafter, this is the day for a second gorilla tracking escapade in Uganda after visiting them in Rwanda. Gorilla Tracking in Bwindi Impenetrable Forest is much tedious but intresting and the trill of meeting gorillas is intresting. The awesome come upon into a gorilla family with a Silverback as the head is an appealing experience. Amaximum of one hour will be given to you viewing the gorillas. Thereafter, we shall return to your Lodge for relaxation as we wait for dinner and overnight.
Day 6: Leave the home of Gorillas to Queen Elizabeth NP (home of a variety of animals), have an afternoon boat Cruise.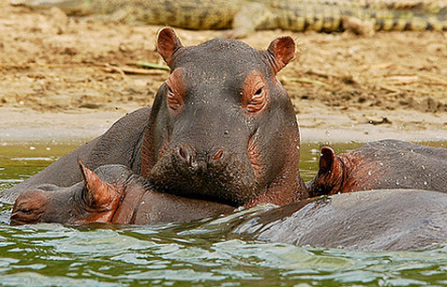 Wake up early enough, take your breakfast, and then set off for Elizabeth National Park. We shall move through Ishasha sector to view the tree climbing lions and there proceed to the lodge for lunch and thereafter, enjoy the boat ride on Kazinga Channel. Kazinga channel found in Queen Elizabeth National Park is a 40 km water channel that joins Lakes George and Edward. Any tourist to this park cannot fail to be overwhelmed by the Channel's amazing animal diversity.
It's where many buffalos rest in the water while big herds of elephants and different bird species can be seen enjoying themselves along the channel shores. A good number of visitors who take part in the 2 hour launch cruise along the channel regard it as the highlight of their African safari. There are also concentrations of hippos and birds. In short, this water cruise offers an admirable stage for clear photography, extensive bird-watching and an all-embracing game viewing. Return to the lodge for dinner and overnight at Mweya Safari Lodge, Engazi Lodge or Bush Lodge.
Day 7: Morning game drive – Afternoon visit the Crater Lake and Katwe salt lake
We shall wake up very early for the cup of tea/coffee and then set off for a morning game drive, during which you will have an opportunity to spot hippos, elephants, spotted hyenas, lions, leopards, stripped jackals, bushbucks, water bucks and warthogs and many wild animals. Over 95 species of mammals and 600 species of birds have been recorded in the park. Retire from the game drive late morning and go back to the lodge for a rest as you admire nature.
After lunch, visit Katwe salt lake as see how local communities survive by mining salt. You can also have en route game drive on the way to and from crater lakes region, dinner and overnight at Mweya Safari Lodge, Enganzi Lodge, Bush lodge.
Day 8: Return to Kigali
On this last day of the Rwanda -Uganda gorilla trip, you will have your morning breakfast, check-out and commence the journey to Kigali through Katuna boarder this moment in time. It will take approximately 4 to 5 hours. Arrive early afternoon and you will be transferred to you accommodation in Kigali.
END OF THE SAFARI
Email: info@rwandagorillasafaris.com

Safari Lodge:
In  Uganda's Bwindi Impenetrable N.P, you can stay at Gorilla Resort, Silver Back Lodge, Gorilla Mist Lodge, Gift of Nature Lodge, Gorilla valley Lodge, Wagtail Eco safari Lodge among others.
In Queen Elizabeth N.P, you will sleep in Mweya safari Lodge, Enganzi Lodge, Twin Lake lodge and so on.
In Rwanda's Volcanoes N.P, you can dine in Mountain Gorilla View Lodge, Virunga Lodge, Gorilla's Nest Lodge, Le bambou Gorilla Lodge among others.