Gorilla Families and Safety of Trekking In Uganda, Rwanda/ D.R.C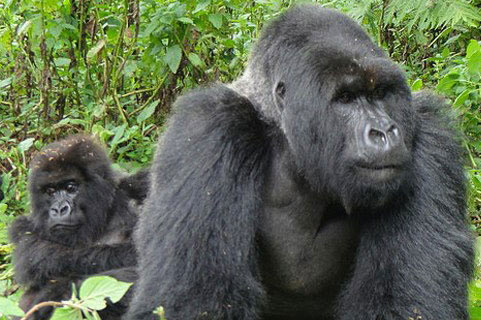 Uganda the pearl of Africa is gifted with a variety of tourist attractions. Among the major attraction include the great mountain Gorillas found in Bwindi impenetrable forest national Park and Mgahinga forest National Park.
The two parks are situated in south western Uganda and near each other. Some of the gorilla groups in Bwindi impenetrable National park include; oruzogo, Mubare, Rushegura, Bitukura and so on.
Tracking Gorillas in Bwindi Forest is guaranteed or a must see however, Meet the Nyakagezi Gorilla Group – the only resident habituated gorilla group in Mgahinga Gorilla National Park.  Resident might be a bit overstated since this group has bee quite nomadic and moving into Rwanda for a long time and they also have been in the Democratic Republic of Congo.
The good news for the visitor to Uganda is that they have returned to Mgahinga Gorilla National Park and gorilla tracking has resumed there.  As long they can find permanent source of food here they will remain and it looks that way.
The fact that Gorilla permits are on very high demand throughout the year, if tourists miss permits in Bwindi impenetrable National Park, alternatively can get permits and track gorillas in Mgahinga forest.
In Rwanda is also known as the land of a thousand Hills due to her topography which is characterized by many hills. Gorillas are only found in volcanoes national park (Parc National des Volcans), but what amazes is that, transfer to the home of mountain Gorillas reward visitor with the scenic journey through the rolling hills Rwanda. At least 480 mountain gorillas inhabit this (Virunga) complex and live at altitudes ranging from 2,300-4,500 m ranging within the southern part of Virunga National Park (DRC), and the Volcanoes National Park northern Rwanda.
In Rwanda, Gorilla's families or groups are divided into two those which are for the study/ research purposes and these are only accessed by scientists and researchers. These include: Beetsme, and Pablo's Shida's and have the largest number of individuals.
There are then also 10 habituated gorilla groups which are for tourism purposes, and these are the ones that gorilla trackers visit. Like in Uganda, a maximum of 8 persons can visit each gorilla group per day spending a maximum one hour each visit. These groups include Susa group, Sabinyo, Amahoro, Agasha group, Kwitonda, Umubano, Bwengye, Hirwa, Karinsimbi and Ugenda.
Every thing has been discussed but the Question is, how is the safety of visitors on Gorilla safari?
The above question has been frequently asked by many tourists but the answer is, all tourists on Gorilla safaris are protected / guarded from the briefing point to the end of Gorilla tracking as groups of gorillas trackers are protected through the forest. Country wise, Uganda and Rwanda are politically stable however, Democratic Republic of Congo is some times disturbed by rebels though much is done to ensure permanent stability of the country.