2 Day Bwindi Gorilla Trekking Safari in Uganda from Kigali
This is one of the shortest gorilla tour packages in Uganda, starting and ending in Kigali, the capital city of Rwanda. It is just 4 – 6 hours drive from Kigali to southern Bwindi National Park or Mgahinga National Park via Gatuna or Cyanika boarders. The choice is tours between Bwindi and Mgahinga Forests.
The 2 Day Uganda gorilla safari to Bwindi impenetrable National park or Mgahinga National Park from Kigali is very popular because gorilla permits in Uganda are cheaper by US$150 compared to Rwanda. Gorilla tracking permits in Uganda cost US$600, and in Rwanda they cost US$750 each. Uganda has promotional permits in low seasons every year (April, May and November) at US$350 each gorilla permit.
You can easily connect to Bwindi Impenetrable National Park in south western Uganda from Kigali via Katuna or Cyanika boarders. This takes approximately 4hrs drive.
Email: info@rwandagorillasafaris.com ::: Tel: +256-772561508

Proposed Itinerary for 2 Day Uganda Gorilla Trek
Day One: Kigali city tour, Cross to Uganda to Bwindi Forest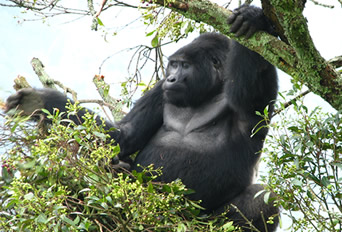 Pick up from the hotel in Kigali after breakfast or Kigali Airport on arrival and proceed for a city tour in Kigali, visit Gisozi genocide memorial museum, lunch and later drive to Southern Bwindi Impenetrable National Park, or Mgahinga National Park, both located in south western Uganda, and inhabit morethan half of world's last remaining population of mountain gorillas with over 440 gorillas (According to 2011 census).
The journey goes through wonderful majestic rolling hills that characterize much of Rwanda, enter Uganda through Cyanika or Katuna boarder, proceed through rolling hills, deep valleys and winding roads of the Kigezi region, famously known as the Switzerland of Africa, check in your lodge for dinner and overnight.
Day Two: Gorilla Trekking Adventure (Bwindi or Mgahinga Forest)
Start early with heavy breakfast, drive to park headquarters with packed mineral water for a briefing about gorilla trekking Excursion. The trek is quite strenuous, so you should be able to hike for 2-6 hours on steep and Slippery forest trails before meeting gorillas camouflaged in thick vegetation. Sight and stay with gorillas is for 1 hour maximum. Return to the lodge and hit the road back to Kigali where the tour ends.
END OF THE TOUR
Accommodation in Southern Bwindi National Park
In Ruhijha we have the following lodges;
– Gorilla Mist Camp
– Bakiga Lodge
– Gift of Nature Lodge
In Rushaga and Nkuringo we have the following  lodge;
– Clouds Mountain Gorilla Lodge
– Chameleon Hill Lodge
– Nkuringo Gorilla camp
– Gorilla Safari Lodge
– Nshongi Gorilla Resort
– Wagtail Eco Camp
– Cookland Gorilla Camp
Lodges in Mgahinga National Park
– Gahinga Lodge owned by Volcanoes Safaris Ltd
– Many hotels around Kisoro town