Safari Overview:
This is a 5 days (4 nights) Uganda chimpanzee and Gorilla tour.
What to see on the tour:
Mountain Gorillas, chimpanzees, other primates among others.
Areas to tour:
-Tour Bwindi Impenetrable Forest N.P (Home of mountain Gorillas)
-Tour Kibale Forest National Park (Home of chimpanzees)
Brief Itinerary:
Day 1: Transfer to Bwindi Impenetrable Forest.
Day 2: Gorilla trekking
Day 3: Transfer to Kibale Forest N.P
Day 4: Chimpanzee trekking
Day 5: Departure
End of the tour.
To book or inquire about the 5 day gorilla & Chimp tour package, email us on info@rwandagorillasafaris.com
Tel +256 772 561508 / +256 701 728141
Detailed Itinerary:
5 days (4 nights) Uganda Gorilla & chimpanzee trekking safari
Day 1: Transfer to Bwindi Impenetrable National Park
Bwindi Impenetrable Forest is home to roughly half of the world's mountain gorillas and is one of the two national parks in Uganda where you can see these magnificent creatures. This is a fast and tiring safari but worth every second, should you be lucky enough to see the gorillas.
Its approximately eight hours drive from Kampala to the park, so leave Kampala after having heavy breakfast. You will also have en route lunch in Mbarara and after, proceed to Bwindi forest National Park. On your arrival to the park, check into your choice of optioned accommodation such as Mahogany Spring Lodge, Gorilla Mist Lodge, Wagtail Eco Safari Camp or Gift of Nature Lodge. Have dinner and overnight here as you wait for tomorrow's memorable gorilla tracking.
Day 2: Gorilla Trekking in their Natural Habitat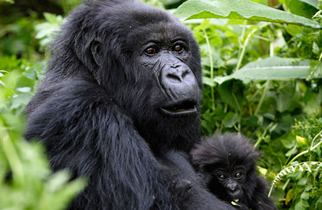 Wake up early, enjoy breakfast and go for briefing at the park head quarter. By ranger guide, you will be told about the "dos and the don'ts" while on tracking protocol. There after you will be led by an experienced guide through the forest since it is impenetrable. You will be directed to the Gorilla groups of your choice. Enjoy them swinging on the trees, feeding, suckling young ones among others. Here, you will be given a maximum of one hour taking photographs of these human closest friends since they share over 98%or their DNA with humans plus a display of uncanny human characteristics. dinner and overnight at the lodge as on day one.
Day 3: Transfer to Kibale National park, a home to 13 Primate Species
Breakfast and leave Bwindi for another memorable activity in Kibale National park known as Chimpanzee tracking.  On the way to Kibale, you will have en route game drive through the Ishasha sector in Queen Elizabeth National Park; expect to see the tree climbing lions, herds of Uganda kob, buffalos and elephants. Then proceed to kibale with a stopover at the Equator for photographs, lunch enroute. On your arrival at Kibale Park, check into one of the optioned lodges of your choice such as Ndali lodge, Mountains of the moon hotel, Kyaninga lodge, Ndali lodge, chimp Nest lodge or Chimpanzee Guest house.
Day 4: Memorable Wild Chimpanzee Tracking and Bigodi Swamp walk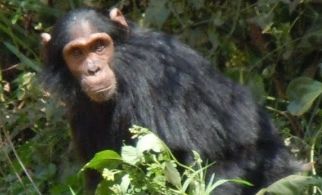 Breakfast and go for briefing by the ranger guide about the "dos and don'ts" while with the Chimpanzees. Set-off for a walk led by, an experienced and fluent English speaking ranger guide through the forest in search for chimpanzees. This memorable and adventurous walk will enable you view chimpanzees swinging on the trees, feeding; suckling young ones among other funs. You will also be given a maximum of one hour chanting and taking photographs of these human closest "cousin".  Besides the Chimpanzees there is simply the fabulous rainforest, the other primates, the trees, the flowers, the abundance of bird species, the sounds of the Rain Forest, butterflies floating through the air, the place to be, and then there are the chimpanzees grabbing your attention. Retire for lunch and relaxation as preparing for the visit in the nearby Bigodi Wetlands Sanctuary for a nature walk. Bigodi wetland is a bird watcher's paradise with about 138 species. You will also view other primates like the black-and-white colobus, red-tailed, grey-cheeked mangabey, l'Hoest'sand blue monkeys, as well as olive baboons. Bushbucks and mongooses can also be sighted here. Back to your lodge for dinner and overnight as on day one.
Day 5: Return to Kampala
After breakfast, depart for Kampala with en route lunch in Mityana town and thereafter continue with the journey to Kampala or Entebbe international Air port for your flight back home in case your flight is scheduled on that day.
Email: info@rwandagorillasafaris.com

Uganda safari Recommended accommodation:
Safari Lodges in Bwindi are, Mahogany Springs Lodge, Gorilla Resort, Silver back Lodge, Gorilla Mist Camp, Gift of Nature Lodge, Gorilla Valley Lodge or Wagtail Eco safari camp and so on.
Safari Lodges in Kibale Forest include Ndali Lodge, Mountains of the moon Lodge, Chimp Nest Lodge Chimpanzee Guest House among others.
Related tours:
All Uganda safari packages.