Safari Overview:
This is a 5 days / 4 nights Uganda safari to Bwindi Impenetrable N.P.
You will have 3 Gorilla treks (You need to buy 3 Gorilla permits)
You will visit 3 different gorilla groups. Among Uganda's gorilla families include Mubare, Habinyanja, Oruzogo, Rushegura, Bitukura, Nkuringo, Businje, Mishaya, Kyaguriro and Nshongi and many more.
Brief Itinerary:
Day 1: Kampala – Bwindi National Park
Day 2: First Gorilla trek
Day 3: Second Gorilla track
Day 4: Third Gorilla trekking
Day 5: Return to Kampala – Departure
End of the safari
Email: info@rwandagorillasafaris.com ::: Tel: +256-772561508

Detailed Itinerary:
5 Days Uganda Safari with 3 Gorilla Treks Bwindi
Day 1:  Kampala – Bwindi National Park
You will be picked up from your hotel then leave Kampala and head to the southwest of Uganda via Kampala-Masaka-Mbarara road.  Stopover at the equator at Nabusanke trading centre, take some photos and continue to Mbarara where you will have lunch. From there head to Bwindi impenetrable national park.  Welcome to Bwindi where gorillas are the centre of attraction, a distinct feature for Uganda's tourism. Dinner and overnight at Gorilla Forest Camp, Buhoma Lodge / Mahogany Springs Lodge / Buhoma community Rest Camp / Siverback lodge / Bwindi Safari lodge or Gorilla Resort among others.
Day 2: Gorilla tracking – Buhoma – Habinyanja Gorilla group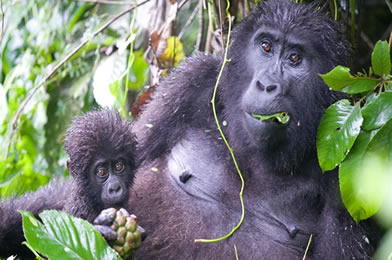 Take an early morning breakfast, head to the park headquarters with packed lunch for an inevitable briefing ready to trek for the gorillas in the thick and impenetrable forests. You get to spend an hour with the gorillas after having trekked for about 3-8 hours. If you are not so worn out in the evening, head for a brief nature walk to the Batwa community. Also available are curio shops, drinking joints, a children's school among others. You can try the other option being Munyanja river trail, where you can see the waterfalls and an array of bird life or the Muzabajiro/ Ruhija trails which offer forest and grassland bird species plus more primates. Return to your lodge on Day 1 for dinner and overnight.
Day 3: Second Gorilla trek – Buhoma – Rushegura Gorilla Family
Breakfast at your lodge, followed by another gorilla trek in bwindi national park. Retire for lunch, relax at your lodge, then in the evening, we star a 90 minutes drive to Ruhija side of bwindi National Park. Dinner and overnight at Gorilla Mist Camp / Gift of Nature Lodge or Bakiga Lodge.
Day 4: Third Gorilla Trek – Either Oruzogo or Bitukura Gorilla Group – Bwindi National park
The trek here is quite strenous compared to Buhoma side. However, porters are available to help you through out the trek. Do not forget carrying enough water and packged lunch. After lunch, we can choose to take a forest walk around, or relax at your lodge while enjoying the beautiful view of the forest, or we can drive for 2hours to the beautiful lava dammed lake of wornders; Lake Bunyonyi in Kabale, dinner and overnight at Bird nest resort, Arcadia cottages or Bunyonyi overland resort, all with clear view of Lake Bunyonyi.
Day 5: Reserved for Departure
Early breakfast followed by transfer back to Kampala where the tour ends. This takes 8-10hrs drive. Alternatively, we can cross the boarder to Rwanda, fly out through Kigali International Airport. This takes about 4-5 hrs drive depending to which lodge you stayed.
5 Days Bwindi Gorilla safari in Uganda from Kigali (Rwanda)
Alternatively, instead of driving for over 10hrs from Kampala to Bwindi national park, the 5 days Bwindi gorilla safari can start and end in Kigali. It is only 4-5hrs drive from Kigali to Bwindi National park via Katuna or Cyanika boarder. Just let us know your choice!
End of the Safari
Email: info@rwandagorillasafaris.com


A variety of Lodges in Bwindi Forest include Nkuringo Gorilla Camp, Mahogany Springs Lodge, Lake Mutanda Resort, Gorilla Valley Lodge, Gift of Nature Lodge among others.