Trip overview:
7 days is equal to 6 nights on Uganda safari.
On the safari, expect to see Gorillas, chimpanzees, birds, a variety of wildlife among others.
You will have boat cruise on Kazinga Channel, Game drives, chimp and Gorilla treks and many more.
Areas to tour include; Kibale N.P, Queen Elizabeth N.P, Bwindi N.P, Lake Mburo N.P.
Brief itinerary:
Day 1: Kampala – Kibale Forest National Park
Day 2: Chimp trek
Day 3: Kibale N.P – Queen Elizabeth N.P
Day 4: Game drive – afternoon Boat trip
Day 5: Head to Bwindi Impenetrable N.P
Day 6: Gorilla trek
Day 7: Return to Kampala
End of the trip
Email: info@rwandagorillasafaris.com : Call us : +256-772561508

Detailed Itinerary:
7 days (6 night) Safari Kibale National Park, Queen Elizabeth National Park, Bwindi Forest National Park & Lake Mburo National Park
Day 1:  Kampala – Kibale Forest National Park
Have your early breakfast then depart Kampala at 8:00 am and head to Fort portal where you will stop over for lunch prior to visiting Bigodi Wetland Sanctuary. This afternoon guided walk around the Swamp will provide you with an opportunity to see different flora and fauna. Later check in at Kibale Safari Lodge, Kyaninga lodge or Ndali Lodge for overnight stay
Day 2: Kibale National Park
After early breakfast report at Kanyanchu Tourist Centre for a briefing, Later with your guide set out to track the chimpanzees. Kibale Forest National Park is home to our closest living relatives – the wild Chimpanzees, and other 13 different primates including the threatened Red Colobus monkey and L'Hoest's monkey. Lunch break then drive to Queen Elizabeth National park. The drive will take you along the Rwenzori ranges. This park is re known for its variety of big game that include Elephants, Lions, Buffaloes, Bush bucks and the elusive leopard. Overnight stay at Jacana Safari Lodge/Enganzi Lodge / Katara Lodge or Mweya Safari Lodge
Day 3:  Queen Elizabeth National Park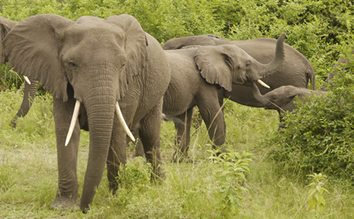 Rise early and take on a morning game drive. Look out for lions, Elephants, buffaloes, hyenas, the comical warthogs, Antelopes and with luck the elusive Leopard could be spotted. Return to the lodge for late breakfast and lunch.
In the afternoon take on a unique launch cruise along Kazinga Channel – one that connects Lakes George and Edward. The launch cruise passes through presumably the highest concentration of hippo in Africa and other mammals are a common sight as they drink at the water's edge. The birdlife is abundant and colourful. Later return to the lodge in sunset for dinner and overnight.
Day 4: Queen Elizabeth – Bwindi Impenetrable National Park
After African breakfast, check out of the lodge and head to Bwindi Forest National park.  (If over night is at Buhoma /and if time allows take on another game drive in Ishasha – the southern sector of Queen Elizabeth National park, famous for tree climbing lions.
Bwindi Impenetrable Forest is home to half of the world's last remaining population of the critically endangered Mountain Gorillas. The park not only offers dramatic steeply forested landscape but is also incredibly dense though crisscrossed by numerous animal trails allowing access to tourists.
Overnight stay (subject to family to be tracked) at Gift of nature Lodge, Mahogany springs Lodge, Gorilla mist camp, Gorilla Safari Lodge, Wagtail eco camp, and Ruhija Gorilla Lodge
Day 5:  Gorilla Trekking – Bwindi Impenetrable Forest
Early breakfast then report at the UWA information office where you will be fully briefed about gorilla tracking. With your packed lunch set off with your guide for the adventure. The trek can take between 2-7 hours but from the time the first Gorilla or Gorilla family is spotted, you are only allowed to spend a maximum of one hour with them as they go about their activities. The experience of observing these endangered gentle giants is a humbling and exciting adventure.
Return to your camp/ lodge from where you will retrieve those special moments with friends over a drink. Overnight stay at Gift of nature lodge, Mahogany springs lodge, Gorilla Forest Camp, Gorilla mist camp, Lake mutanda chameleon hill, Ruhija Gorilla Lodge.
Day 6: Bwindi Impenetrable National Park –Lake Mburo National Park
With your late breakfast then transfer to Lake Mburo National Park. This park is rich with a diversity of animal and plant species. Lunch break then have the afternoon at leisure (taking it easy). Overnight stay at Mantana Luxury Tented Camp or Mihingo Lodge.
Day 7:   Lake Mburo National Park – Kampala
Late breakfast – followed by a short game drive in search of Zebras, buffalos and Antelopes among others. Lunch break then return to Kampala and head to the Airport.
End of the trip
Depending on your budget,you can decide to stay in a Luxury, Deluxe or Budget Lodges/ Hotels.
Safari Lodges in Kibale N.P include Kibale Primate Lodge, Kibale Forest Lodge, Chimp Nest Lodge, Kibale Forest camp, safari hotel Bigodi, Mantana tented Camp, Nyinabulitwa resort and Safari Camp, Crater valley Kibale, Lake Nkuruba Nature Reserve and so on.
In Queen Elizabeth N.P, you can stay at Ishasha Wilderness camp, Jacana safari Lodge, Mweya Hostel, Mweya safari Lodge, Bush camp, Hippo Hill cam and Lodge, Hotel Margherita Ltd, Ishasha Ntungwe river Camp, Katara Lodge among others.
Safari Lodges in Bwindi N.P include, Buhoma community Rest camp, Sanctuary Gorilla Forest Camp, Buhoma lodge, CTPH Gorilla Conservation Camp, Silver Back Lodge, Volcanoes safari Bwindi Lodge, Engagi Lodge and so on.
In lake Mburo N.p, you can stay at Mihingo Lodge, Rwonyo Rest camp, Matana tented Camp, Arcadia Cottages, Conservation Education Center among others.