Where to find the Lodge?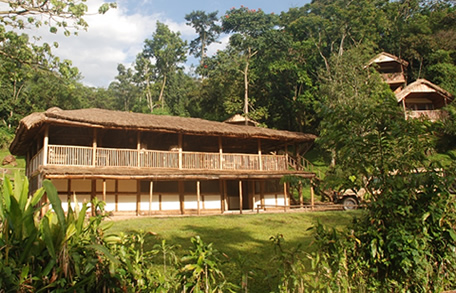 The lodge is strategically located near the home of mountain gorillas. It is about 5 minutes walk from the National park offices in Buhoma along with the gorilla trekking center of operations of Bwindi Forest.
How is the accommodation?
There is designed accommodation with double cottage units along with verandahs for proper view of the tropical rain forest. The bathrooms and toilets are up to standards with a better solar system to give dim light to the cottages as well as enough power for charging any gadget. Depending on what you want, nature walks are also accessible. The evenings are always cold but there is a provision of the camp fire. It's pleasant with a friendly atmosphere that makes visits meet and get to know each other. The bar is fully stocked.
What about a Bar and Restaurant?
At the Lodge, both local and international dishes that well known to be so delicious. Food is served depending on what the visitors want to be for instance dining room or on the terrace. But in most cases, the weather condition usually determines the suitable place. The design of the lodge is so beautiful; the local materials used for construction make it so unique. The lodge is eco-friendly and the grown food is given to the neighbors.
What are some of the activities?
Gorilla trekking is the major activity. Many visitors frequent this place to see the amazing, intelligent and   gentle giants in their natural setting. Also expect to encounter a variety of birds, forest animals among others.
Below is the 3 days proposed itinerary:
3 DAYS FLYING AND DRIVING GORILLA SAFARI- BWINDI GORILLA TRACKING TOUR
 Day 2: Fly to Kihihi – drive to Bwindi Impenetrable National Park (Home of Gorillas)
After morning breakfast in Entebbe, you will be flying to Kihihi airstrip from where you will transfer for 2 hours drive to the home of mountain gorillas. Dinner and overnight at Buhoma Lodge.
Day 2:  Gorilla Tracking Adventure
Early in the morning after breakfast, you will transfer to the headquarters for briefing from the Park rangers about the dos and don'ts while with the Gorillas, before embarking on the memorable activity of tracking the amazing apes. Tracking will take you through thick vegetation and the ease of finding the Gorillas will depend on the movement of the animals with in their natural environment. A maximum of one hour will be allowed with the Gorillas and take memorable photographs. Relax at the Lodge as you wait for dinner and overnight.
Day 3: Transfer to Entebbe via Kampala
After your breakfast, you will set off for your return journey. Lunch en route in Mbarara town. Stop at the equator for photography and buy art craft on the way back. Proceed to Entebbe via Kampala for your flight back home.
END OF THE TOUR