Safari Overview:
The 5 days Uganda Gorilla and wildlife tour in Uganda takes you to Lake Mburo and Bwindi forest N.P.
The trip start in Kampala or Entebbe Airport and end at Entebbe Airport.
What to do on the safari:
Gorilla trekking in Bwindi forest
Community tours
Game drives in Lake Mburo N.P
Launch cruise
Birding and so on.
Brief itinerary:
Day 1: Kampala – Lake Mburo N.p – Boat trip
Day 2: Game drive – Transfer to Bwindi Forest N.P
Day 3: Gorilla tracking – Relax in the afternoon
Day 4: Bwindi Community walk
Day 5: Return to Kampala – departure
End of the trip
Email: info@rwandagorillasafaris.com ::: Tel: +256-772561508

Detailed Itinerary:
5 Days Uganda Gorilla Trekking & Local Community Tour
Day 1: Transfer to Lake Mburo National Park
Have early morning breakfast, start your trip to Lake Mburo National park. Travel through Mpigi, Masaka and Lyantonde district. Along the way in
Mpigi, you may make a stop at Mpambire see well-made amazing traditional drums and other local musical instruments. Thereafter, move straight to Lake Mburo National Park. Mburo is one of the smallest Savannah parks with plenty of antelopes including the impala from which the name Kampala, Uganda's capital city was got. Indeed, Lake Mburo is a natural haven for fauna and flora. On your arrival, have lunch at Mihingo safari lodge or Arcadia cottages. After lunch, head for a boat cruise on Lake Mburo. While sailing, enjoy the view of crocodiles, buffalos and hippos as well as colorful kingfishers, magnificent fish eagles, hammer kops and even the bizarre- looking shoebill plus a variety of birds at the shores. Dinner and overnight, at Mihingo safari lodge, Mantana Tented Camps, Lake Mburo Safari Lodge or Arcadia cottages.
Day 2: Morning Game Drive and set off to Bwindi National Park
Have a cup of tea and after, go for a morning game drive in Lake Mburo national park. The drive last for about 2 to 3 hours and expect to see zebras, buffaloes, elands and impalas along with a great variety of birds. Have early lunch in Mbarara, and then drive to Bwindi Impenetrable National Park. You arrive in the evening, check into your choice of accommodation such as Mahogany springs lodge, Gorilla mist camp, Wagtail Eco safari camp or Gift of nature lodge. Dinner and overnight here.
Day 3: Gorilla Tracking Experience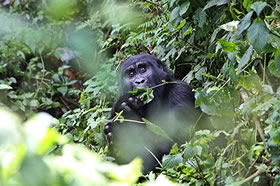 Gorillas Bwind Please the bed early, enjoy your breakfast and transfer to the park headquarters for briefing about gorilla tracking. Move with an experienced ranger guide through out the forest while searching for the gorillas.  The time you will take tracking or trekking these human-like apes ranges between 2 to 6 hours depending on the movement of the gorilla group you want to track. Meet these amazing Gentle Giants, start chanting and enjoy them swinging on the trees, feeding and suckling young ones. At this point, set your cameras ready to take photos of these amazing creatures.  A maximum of one hour will be given to you, taking films, photos. Back to your lodge, for lunch and relaxation.
Day 4: Community Tour
Breakfast and go for the village walk. Visit the Nkuringo cultural centre, meet residents, learn about life in Rubuguri and participate in a crafts demonstration. You will then visit the primary school to watch this region's most famous cultural attraction- the dynamic Kiga dance. We can also visit local community in fields and participate in activities like digging, cattle keeping and milking. All meals and dinner at your lodge.
Day 5: Return to Entebbe Via Kampala
After break, enjoy the journey back to Entebbe via Kampala with scenic views en route. Stopovers: in Mbarara town for en route lunch, at the Uganda Equator for photographs and informative talk, proceed to Kampala, then Entebbe for your scheduled flight back home.
Email: info@rwandagorillasafaris.com


Safari Lodges in Lake Mburo N.P include Mihingo Lodge (Luxury), Arcadia Cottages (Deluxe) or Rwonyo Rest Camp (Budget)
Lodges in Bwindi Impenetrable N.P, Silver back Lodge (Luxury), Gorilla Mist camp (Deluxe) or Gifgt of Nature Lodge (Budget)