Rwanda Gorilla Safaris, Gorilla Trekking Tours in Uganda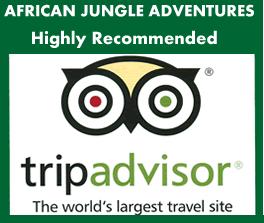 Welcome to African Jungle Adventures ltd, The No. 1 Gorilla safari Company in Rwanda and Uganda. With over 13 years experience (since 2001), we have been offering excellent travel services at the best prices on the market! Among our safari packages include mountain gorilla trekking in Bwindi and Volcanoes National Parks (Uganda and Rwanda), Wild chimpanzee tracking, Chimpanzee habituation experience, Wildlife safaris, Bird watching, culture / community tours, photo safaris, mountain climbing adventures among others.
Consult our Team of experts for an unforgettable journey of discovery across Rwanda and Uganda by booking your gorilla tours with African Jungle Adventures. With us, you will enjoy life-time experience carefully planned by our professional staff and local tour guides at the best price on the market. We have 4x4 Land cruisers, Nissan Patrol, Land Rover and mini-buses. Contact us for free information about our packages, travel tips, tailor-made trips, etc. Email: info@rwandagorillasafaris.com | Tel: +256 772 561508 / +256-701 728141
Top Gorilla Safaris in Rwanda & Uganda with African Jungle Adventures
How to Book a gorilla Permit or safari in Rwanda and Uganda
Send an email to info@rwandagorillasafaris.com for a free quote, travel advice, trips, gorilla permits or tailor-made itinerary. You will get replied immediately. You can also call +256-772561508 / +256-701728141. Click here for detailed procedure
Costs of Gorilla Permits in Rwanda (Volcanoes National Park)
- US$750 for Foreign Non-residents
- US$475 for East African Residents (With Work permit or Passport for any East African Country)
- US$375 for Foreign Residents living in Rwanda
- 30.000 Frw for Rwandan citizens
Costs of Gorilla Permits in Uganda (Bwindi Forest & Mgahinga National Parks)
- US$600 for Foreign Non-residents
- US$500 for Foreign Residents (With Work permit or Passport for any East African Country)
- 250.000 UGX  for Uganda Citizens
Gorilla Permit Promotions in Uganda
The prices of gorilla permits in Uganda reduce to US$350 for foreign Non Residents in months of April, May and November. Contact us now and grab your discounted gorilla permit before its late.
Community Support / Development Contribution
African Jungle Adventures supports local community development projects such as schools, medical centers and provision of clean water. If you book a safari with us, it's a direct contribution to the local community social and economic well being.
Gorilla Trekking Rules / Guidelines
Keep a distance of 7 meters (22ft) from the gorillas in order to control transmission of human diseases to gorillas.
If you are sick with a cold, flu or other contagious illness, please do not visit the gorillas.
A maximum of 1 hour is allowed with gorillas for observation, photographing and filming / Video taking
A group of 8 persons (maximum) is allowed to visit one gorilla family per day
Spitting in the park is strictly prohibited.
Cover your mouth and turn away from the gorillas while coughing
 Keep your voice low while with gorillas in the jungle
 Avoid rapid movements that may scare the gorillas
In case a gorilla charges at you, do not be alarmed, stand still, look away from the gorilla and follow your guide's directions.
Should you like to ease yourself, dig a hole and bury it well after.
 Do not litter.
More safari packages
Email: info@rwandagorillasafaris.com