Rwanda Gorilla Tours, Culture and Wildlife Safaris in Uganda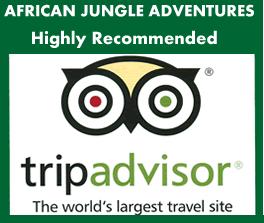 Welcome to African Jungle Adventures, the No. 1 Gorilla safari Company in Rwanda and Uganda. We specialize in offering gorilla trekking tours, wildlife safaris and other special interest holidays in both Uganda and Rwanda. With over 13 years experience (since 2001), we have been offering cheap and excellent travel services at the best prices on the market! Among our safari packages include mountain gorilla trekking in Bwindi Impenetrable Forest and Volcanoes National Parks, chimpanzee tracking and chimpanzee habituation experience, wildlife safaris, bird watching, culture / community tours, photo safaris, mountain climbing adventures among others.
Consult our Team of experts for an unforgettable journey of discovery across Rwanda and Uganda by booking your next tour with African Jungle Adventures. With us, you will enjoy life-time experience carefully planned by our professional staff and local tour guides at the best price on the market. We have 4x4WD Land cruisers, Nissan Patrol, Land Rover and mini-buses. Contact us for free information about our packages, travel tips, tailor-made trips, etc.
Email us via info@rwandagorillasafaris.com or call +256 772 561508 / +256-701 728141 to talk to one of our travel specialist.
Top Gorilla Safaris in Rwanda & Uganda
How to Book a gorilla Permit or safari in Rwanda and Uganda
Send an email to info@rwandagorillasafaris.com for a free quote, travel advice, trips, gorilla permits or tailor-made itinerary. You will get replied immediately. You can also call +256-772561508 / +256-701728141. Click here for detailed procedure
More Rwanda Safari Packages
Click here for more Safaris in Rwanda
See our selection of tours in Uganda
Click here for Uganda Rwanda Combined tours
Where to Stay
Check out the different lodge options including Luxury safari lodges
Places to Go
Discover the different national parks in Uganda Rwanda