One Day Gorilla Trek in Rwanda – Short Gorilla Tour
This day tour offers an opportunity to track the mountain gorillas in the volcanoes National Park in Rwanda.  Gorilla tracking is a memorable experience involving hikes within the undulating hills in PNV to meet the giant gorillas in their natural habitat.
Trip Overview
This is the shortest trip to the mountain gorillas in Rwanda.
Go gorilla tracking in the Volcanoes National Park and see the endangered gorillas in the wild.
This trip starts very early in the morning. You will depart from Kigali at 5.00AM and return back the same day.
To book or inquire about the 1 day gorilla tour package, email us on info@rwandagorillasafaris.com
Tel +256 772 561508 / +256 701 728141
Trip Itinerary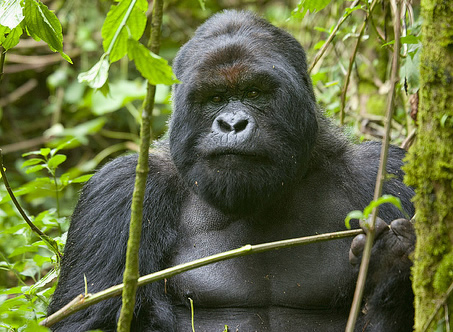 You will be picked by your tour guide from your hotel in Kigali at 4:00am (Rwandan Time), the start a 2hrs drive north wards to Volcanoes National Park. Upon arrival, you will meet other travelers at the park headquarters in Kinigi, assemble for a group allocation and briefing about gorilla tracking.
There are over 10 gorilla families and each gorilla family is visited by a maximum of 8 persons per day. You will be divided into groups and allocated gorilla families to track. After the briefing, you will drive to the trekking starting point. The distance here depends on which gorilla group you are going to track but normally takes 15-40 minutes.
You should not forget to carry enough water and snacks. This can be organized at your hotel in Kigali. The trek in search for these gentle giants takes between 2-8hours depending on the movement of these Gentle Giants in their natural habitat. The trek in search for gorillas is strenuous as you go through steep ans slippery jungle grounds, making it tiresome. However, the thrill of encountering these mountain gorillas in their natural habitat is worth the effort. It will erase all the poor memories you went through in search for them.
An hour is allowed to stay with them for photographing, observation and enjoy them feeding and young ones swinging on tree. Descend for late lunch in Musanze town, later hit the road back to Kigali where the tour ends.
There are several hotels and lodges in Kigali where you can spend an overnight. We can book for you accommodation for you at any of your preferred hotel in Kigali.
We recommend the following selected accommodations:
Meal Plan: Bed and Breakfast
Chez Lando Hotel (Budget)
Urban Boutique
Lemigo Hotel
Hotel Manor
Five to Five Hotel
Kigali Serena Hotel
Hotel des Mille Collins by Kempelski
Related Trips
3 days Flying safari to see gorillas
Luxury Lodges in Uganda and Rwanda
Email: info@rwandagorillasafaris.com