3 Day Gorilla Trek Rwanda in Volcanoes National Park
Highlights for the 3 Day Rwanda gorilla Safari
The 3 Days Rwanda gorilla safari offers you a great opportunity to trek the critically endangered African mountain gorillas in the wild, also visit Gisozi genocide memorial museum in Kigali as well as local markets for fruits and crafts. This depends on your flight schedules. Other optional / additional tour activities in Volcanoes national park include golden monkey tracking at US$100 per person, adventurous hike to Dian Fossey Tombs or Mt. Bishoke / Vishoke climbing or Musanze caves exploration.
Brief Itinerary for 3 Day Gorilla Trekking Rwanda
Day 1: Kigali city tour, visit Gisozi Genocide memorial, art and craft markets, then transfer to Volcanoes National Park
Day 2: Gorilla Tracking adventure, afternoon guided community walk
Day 3: Optional Activities; Second gorilla trek, Golden Monkey Tracking, Hike to Dian Fossey Tombs, Musanze Caves exploration, Mountain Bishoke hiking, Guided community tour (Visit their homes, fields and markets). Later  drive back to Kigali.
When to go?
Departure dates are open! The tour can be taken anytime of the year.
Major Activities
Mountain Gorilla Trekking
Golden Monkey tracking
Genocide memorial tour
Community tour or Meet Gorilla Doctors
photographing
Meal Plan: Full Board
Detailed Itinerary; 3 Day Gorilla safari Rwanda
Day 1: Kigali Genocide Museum Tour, transfer to Volcanoes National Park
Your professional tour guide from African Jungle Adventures Ltd will meet you at your hotel in Kigali after breakfast, or at the airport on arrival, start with a tour to Gisozi genocide memorial museum in Kigali, share stories about what happened in the place during the 1994 genocide in Rwanda. This is where over 250,000 people were buried in massive graves during the 1994 Genocide.
Retire for lunch in Kigali and start a 90 minutes drive north wards to Volcanoes National Park, a home to almost half of the world's last remaining population of the Mountain gorillas. The journey goes through beautiful rolling hills that characterize much of Rwanda. Dinner and overnight at Virunga Lodge / Sabyinyo Silverback lodge / Mountain gorilla View lodge / Le Bambou Gorilla Lodge / Gorillas Hotel / Kinigi Guest House / Gorillas Nest Lodge / Muhabura Hotel/ Hotel La Palme among others.
Day 2: Gorilla Trekking Adventure, Nature / Community walk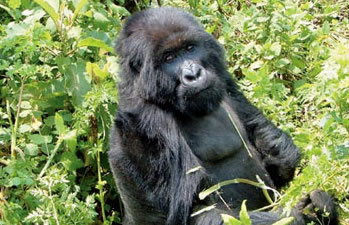 This is your day for an adventure for life time! Start early with breakfast at your hotel / lodge, then drive to the park headquarters in Kinigi where you will find other gorilla trekkers ready for action. Assemble (with packed water and lunch) for a briefing about gorilla trekking in the misty jungles of Volcanoes National park.
The trek in search for mountain gorillas takes 2-7hours. This depends on their movement in the wild. Time allowed with these Gentle Giants is one hour maximum, enjoy them feeding, playing and young ones swinging on trees.
Descend to your lodge for refreshment, late lunch at your lodge, relax as you wait for evening community walk to Musanze local market, or visit the beautiful Twin Lakes of Burera and Ruhondo. Dinner and overnight at your lodge on Day 1.
Day 3: Optional Tour Activities around Musanze and drive back to Kigali
Breakfast at your hotel / lodge and choose any of the activities listed; golden monkey tracking, Explore Musanze caves, Visit Dian Fossey Tombs, Meet gorilla Doctors, Visit local schools/Community, Mt. Bishoke Hiking or second gorilla trek. Alternatively, you can relax at the hotel / lodge before transferring back to Kigali where the tour ends.
End of the 3 Day Rwanda tour
Where to Stay?
There are several hotels and lodges around Parc National Des Volcans (Volcanoes National Park) for your overnight stay. We can book for you accommodation for you at any of your preferred hotel / lodge depending on your budget.
We recommend the following selected accommodations:
Sabyinyo Silverback Lodge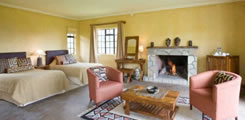 Sabyinyo Silverback lodge is a luxury lodge set in the foot of the Magnificent Virunga Volcanoes in Rwanda, a perfect base for mountain gorilla trekking; perhaps one of the most dramatic, thrilling and poignant wildlife experiences possible. Its less than 20 minutes drive to the park headquarters.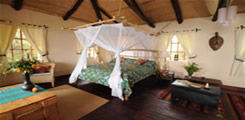 The magnificent Virunga Safari Lodge is perched high on a ridge and has stunning views of the Virunga Volcanoes and the beautiful twin lakes Bulera and Ruhonda. It has been described as having 'the best view in the world' and as 'one of the finest lodges in Africa'.
Mountain Gorilla View Lodge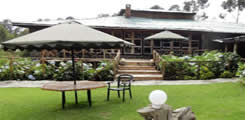 Is an ecolodge with many spacious chalets, located on the foothills of the Mount Karisimbi, one of the volcanic mountains that make up the Virunga Massif. The lodge is about 10 minutes' drive to Volcanoes National Park headquarters, providing deluxe accommodation at good price.
Gorillas Nest Lodge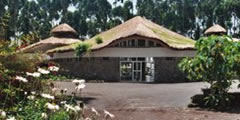 Gorillas Nest Lodge offers very beautiful views of Rwandan hills and the slopes of the Volcanoes National Park. It is Strategically located on the foothills of the Virunga Volcanoes. Share the Mountain Gorilla's family space, soak up the serenity found in nature and marvel at the abundance of primates in this magical spot.
Le Bambou Lodge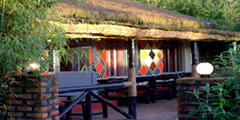 Le Bambou Gorilla Lodge has been built using environmentally friendly local materials such as Bamboos made fitted by a local community workmanship.Its located on the foothills of Volcanoes National park, lessthan 15 minutes' drive to teh park headquarters. Each cottage has electricity 24h/7, its own terrace and a self-contained bathroom offers eco-luxury comfort to all guests.
Hotel La palme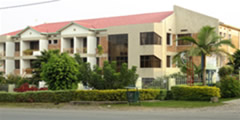 La Palme Hotel is a three star Hotel, located in Musanze town on the edges of Volcanoes gorilla park, offering very good accommodation to business and Leisure tourists to Musanze, and those for gorillas and golden monkey tracking in Rwanda. It is about 10km the gorilla park. it has about 48 deluxe rooms, all with electricity 24/7, with ensuite/private bathrooms, toilet and balcony, Wifi, all at friendly cost.
Villa Gorilla Lodge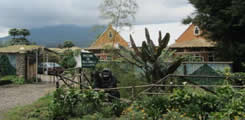 Villa Gorilla offers beautiful mountain views of the Volcanoes National Park. Within the villa, there are 4 comfortable double occupancy bedrooms, each with private bath and toilet facilities. We also have 3 superb en suite garden bungalows, all with volcano views.
Kinigi Guest House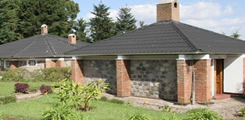 This is one of the best budget accommodation units around Volcanoes National Park. It is located just opposite the park headquarters. Kinigi Guest House is owned by the local people, and it directly benefit the local community.
Hotel Muhabura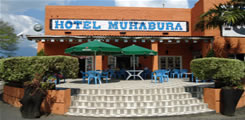 Also offers good budget accommodation in Musanze town. It has 30 rooms and apartments at very reasonable rates, and offers a cozy environment to relax in after gorilla trekking or a day visit to the Northern area of Rwanda.
Related Trips
Email: info@rwandagorillasafaris.com