Murchison Falls National Park Tour – 3 day Uganda Wildlife Safari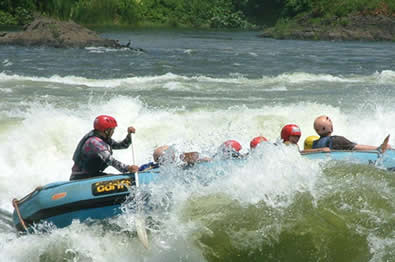 The park is located at the northern end of the Albertine Rift Valley. Murchison falls national park is the largest park in Uganda with the total land area of 3840 square kilometer. The park hosts 76 species of mammals and 451 birds.
Murchison Falls National park is crossed by the Victoria Nile, which plunges 45m over the remnant rift valley wall, creating the dramatic Murchison Falls, the centerpiece of the park and the final event in an 80km stretch of rapids.
The mighty cascade drains the last of the river's energy, transforming it into a broad, placid stream that flows quietly across the rift valley floor into Lake Albert. This stretch of river provides one of Uganda's most remarkable wildlife spectacles.
Regular visitors to the riverbanks include elephants, giraffes and buffaloes; while hippos, Nile crocodiles and aquatic birds are permanent residents. Murchison falls is among the powerful water fall in the worlds.
Enjoy activities like boat cruise on the Murchison falls, Game drives, nature walks, birding among others.
While on boat cruise, expect to see crocodiles, Hippos, Buffaloes and many more lingering at the bank of the fall, Game drive expect to see a variety of birds and  animals like elephants, waterbucks, Bush pigs, Hippos among others.
Below is the 3 days wildlife and chimp safari in Murchison Falls National Park
3 Days Murchison Falls Safari Parkage
This tour enables visitors to view the best of River Nile.  Murchison Falls, Spectacular Falls in Uganda.
Day 1: Transfer to Murchison Falls National Park
After breakfast, we transfer to Murchison Falls National park through the famous Luweero triangle. This zone was a serious battle ground in the early 1980's. Have a lunch stop over in Masindi town.
Proceed to the beautiful Murchison falls there after, hiking to the top of the falls. Enjoy the breathtaking view, complete with a rainbow scene. Dinner and overnight at Paraa Safari Lodge/ Murchison River Lodge or Red Chili Rest Camp.
Day 2: Wildlife, bird viewing & Launch Cruise
Breakfast and drives on the southern banks of the river. Observe different habitats on this drive where you may spot: Hartebeest, Elephants, Bushbucks, Lion, and Jackal among others. Return to your lodge for lunch and relaxation. In the late afternoon have a launch cruise to the bottom of the falls.
Feast on this bird watcher's haven spotting, kingfishers, goliath heron, African fish eagle, African jacana, piacpiac, rock pranticole and many more. Wildlife you may see include: hippo, crocodiles, buffalo, water buck, kob, giraffe and bush buck.  Return for dinner and overnight to your Lodge.
Day 3: Chimpanzee Tracking in Kaniyo Pabidi
Leave the parking after breakfast, Enjoy a guided chimp tracking spree in Kaniyo Pabidi forest. You may spot other primates and birds in this forest.  After this forest adventure, drive back to Kampala with a lunch stop over en route. Continue to Kampala for dinner and overnight.
End of the safari
Related Trips
Safari Lodges in Uganda and Rwanda