Gorilla Trekking in Volcanoes National Park – Rwanda Gorilla Families/ Groups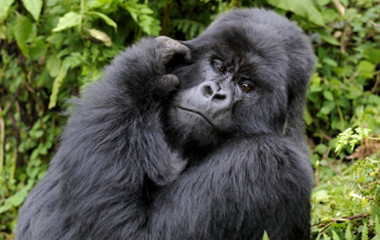 Rwanda is known as "the land of a Thousand Hills", is a wonderful nation and a must visit! This is because, Rwanda is gifted by mountain gorillas found camouflaging in the bamboo forests of Volcanoes National park.
The wonderful home of mountain gorillas (Volcanoes National park) is situated on the slopes of Virunga Mountains. About 125 km2 of mountain forest and home to the six Virunga Volcanoes and the world famous mountain Gorillas Protected within the PNV, the lushly forested slopes of the mountains form an appropriately dramatic natural setting for what is arguably the most poignant and memorable wildlife experience in the world: gorilla trekking.
Along side mountain gorillas, the park also protects a variety of colourful birds, butterflies, rare golden monkey among others. Nothing can prepare one for the impact of encountering a fully-grown silver back Gorilla. Meeting Gorilla families is once a life time experience any body shouldn't miss in life. This is so because the gorillas exhibit dramatic characters like those of human beings.
All Rwanda Gorilla permits are booked in advance from Rwanda Development Board heard quarter. The prices of Gorilla a permit varies according to the residence status see below;
-USD $750 per person for non-nationals.
-USD $375 for foreign residents.
-30,000 Frw for Rwandan citizens.
This is inclusive of park entry fees. It is advisable to organize your own transportation to take you up to the park boundaries. One can get to Musanze from Kigali either by private vehicle or by public taxi minibus. If you intend to make a gorilla visit, you will need to organize your own transport from Musanze town to the park boundaries at Kinigi, where you will continue your trip on foot.
It should also be noted that, before entering the forest to search for Gorillas, all visitors are briefed and are equipped with the following rules:
To minimize possible transmission of human diseases, visitors are asked to maintain a distance of 7m (about 22 feet) from the gorillas. If you are sick with a cold, flu or other contagious illness, please do not visit the gorillas.
The maximum of one hour is given to visitors viewing gorillas.
Eight visitors are allowed to visit each gorilla family.
Spitting in the park is strictly prohibited.
Should you need to cough, cover your mouth and turn away from the Gorillas.
Keep your voice low in the presence of Gorillas.
Try not to make rapid movements that may frighten the gorillas.
If a gorilla should charge or vocalize at you, do not be alarmed, stand still, look away from the gorilla and follow your guide's directions.
The climate in Musanze is changeable and you can generally expect both sun and rainfall during the day.
Musanze, at 1,700m above sea level, is generally quite cold, particularly in the evening, so warm clothing is advised.
Gorilla Families in Volcanoes National Park
Currently, Volcanoes national park protects seven gorilla families available for tourists. Below are some of the gorilla groups;
Susa gorilla family; this is the largest group with 41 gorillas. The group/family is the hardest to trek as it tends to range high into the mountains but the ranger guides in the park will know well in advance where the group is located. The ranger guides predicts the location of the Gorillas depending on their previous location.  The group is also well- known for having rare 5 year old twins named Byishimo and Impano.
Sabyinyo gorilla family; It is one of the easiest to be reached led by the powerful silver back Guhonda. There are fewer members within this family than in the other groups however they are equally impressive as a family.
Amahoro gorilla family; led by the calm and easy going Ubumwe, Amahoro is made up of 17 members and means "peaceful". To reach Amahoro one must endure a fairly steep climb however the climb is well worth it once in contact with this tranquil group.
Group 13; when first habituated this group had only 13 members hence its name. Now the group has approximately 25 members.
Kwitonda gorilla family; this 18-member group is led by Kwitonda which means "humble one" and has two silverbacks and one black back. Having migrated from Democratic Republic of Congo, this group tends to range far making it a moderately difficult trek.
Umubano gorilla family; a family of 11, Umubano were originally Amahoro members but broke off after the dominant silverback was challenged by Charles, now the leader of Umubano. When a young silver back challenges the dominant silver back he must steal some females from the existing group in order to form his own family; thus Umubano was formed.
Hirwa gorilla family; this group emerged recently and was formed from different existing families, namely from Group 13 and Sabyinyo. Eventually more gorillas joined. Come witness this family continue to grow.
Related Articles