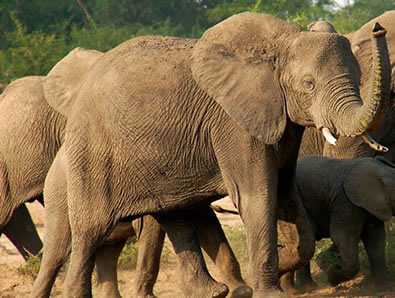 The park is strategically located in the Eastern region of Rwanda. Near Akagera National park, is Kibungu city the best starting point for Akagera exploration.
The park is situated on approximately 2500 sq km of savannah west of the Kagera River, which denotes the frontier with Tanzania. The park has avariety of wildlife and is a habitat for over 500 different species of birds. While in Akagera National park, expect to encounter a variety of wildlife and among which include; herds of elephant and buffalo emerge from the woodland to drink at the lakes, while lucky visitors might stumble across a leopard, a spotted hyena or even a stray lion.
Giraffe and zebra haunt the savannah, and more than a dozen types of antelope inhabit the park, most commonly the handsome chestnut-coated impala, but also the diminutive oribi and secretive bush buck, as well as the ungainly tsessebe and the world's largest antelope, the statuesque Cape eland.
Akagera National park generally features a large concentration of bird life with over 520 species identified including the endemics such as the jacanas, ibis, sand pipers and herons.
Akagera Game Lodge is currently one of the popular accommodation option within Akagera National Park. More of a hotel than a traditional safari lodge; it has fantastic views over Lake Ihema, with a large swimming pool perched on the edge of the savannah. However, plans to upgrade and expand were been put on hold due to the recession, and the site is dotted with unfinished buildings.
Among the facilities at this Lodge are 58 en-suite Studios & 2 Executive Suites and each room with twin beds and satellite Television.
While at Akagera National Park, visitors enjoy a variety of activities like Swimming, Guided wildlife game drives, Conference facilities at the Lodge, Bird watching, fishing expeditions at Lake Ihema among others.
However, it should be noted that, Akagera National park is best not to visit in the rainy season (December, March and April) since many of the routes become impassable.
Ruzizi Tented Lodge, Akagera
The Ruzizi Tented Eco Lodge is a newly constructed accommodation unit in Akagera National Park. Ruzizi Tented camp/lodge currently has 14-bed tented Eco-camp linked together using boardwalks, is the first of its kind in Rwanda and loved by very many visitors into the country. Ruzizi Tented Eco Lodge is built on the shores of Lake Ihema, Rwanda's second largest Lake, tucked away in a tract of unique riverine forest.
With just seven Tents and a maximum of 14 guests, Ruzizi Tented Lodge is a quiet and intimate retreat.  Tall palms and fig trees add to the tranquility of the lodge in the area and attract a variety of birds and animals. This is the best place to for bird lovers too in African wilderness!
Each Tent has its own en-suite bathroom with hot and cold running water, a dressing area and either comfortable queen or 3/4 twin beds and a small patio at the front that is accessible by wooden boardwalks leading to and from the main reception area.
A thatched central reception area is the heart of the lodge, with a fully stocked lounge-bar and dining area.  A large deck with a fireplace sits under a shady fig tree overlooking Lake Ihema. A boat cruise along this lake is offers great opportunity to see hippos, elephants and over 350 bird species.
Akagera National Park is located 3hours drive from Kigali (Rwanda Capital city), and 5hours drive from Volcanoes National Park, a home to Mountain Gorillas in Rwanda. Once can 3-5 day safari in Rwanda combining wildlife viewing in Akagera Natioal park and Mountain Gorilla tracking in Parc National des Volcans or Volcanoes National Park.
Related Articles
3 days Flying safari to see gorillas