Safari Overview: 3 Day Gorilla Tracking Tour Uganda
The 3 day gorilla safari Uganda package takes you to Bwindi Impenetrable National park, a home to almost half of the world's remaining population of the endangered mountain gorillas. The tour starts and ends in Kampala or Entebbe International Airport. We have another option of starting and ending in Kigali / Rwanda, or start in Kampala and end in Kigali. Kampala to Bwindi national park is 8-10 hour's drive, while from Kigali to Bwindi national Park is 4-5 hour drive.
Itinerary in brief: 3 Day Gorilla Safari Uganda
Day 1: Transfer to Bwindi Forest N.P (Home of Mountain Gorillas)
Day 2: Gorilla trekking, afternoon nature /community walk
Day 3: Return to Kampala – Departure
Detailed Itinerary: 3 Day Gorilla Trekking Uganda
Day 1:  Depart for Bwindi National Park
Pick up from your hotel in Kampala and head to the southwest of Uganda along Masaka-Mbarara highway.  Stopover at the equator at Nabusanke trading centre, take some photos and continue to Mbarara where you will have lunch at Agip Motel or Igongo Cultural center. From there head to Bwindi impenetrable national park where gorillas are the centre of attraction, a distinct feature for Uganda's tourism. Sleep and dine at Gorilla Forest Camp / Gorilla Mist Camp / Chameleoon Hill Lodge / Rushaga Gorilla Camp / Buhoma community Bandas/Buhoma Homestead.
Day 2: Gorilla Trekking, Afternoon Community Tour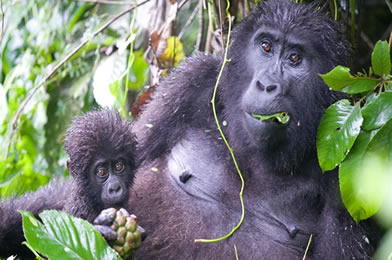 Take an early morning breakfast at your lodge, head to the park headquarters with packed lunch for a compulsory briefing about the rules and regulations to follow while on the trek. The hike in search for these "Gentle Giants" can take 1-7 hours depending on their movements in their natural habitat. Once you meet them, the thrill of encountering the gorillas in the forest erases away all the poor memories you went through searching for them. It is worth the effort! You will be allowed to stay with the gorillas for 60 minutes (maximum), take photos, selfies, videos and enjoy gorillas feeds, playing and young ones swinging on tree. (NOTE: Avoid using flash when taking photos). Descend to your lodge for lunch and if you are not so worn out in the evening, head for a brief nature walk or visit local communities. Also available are curio shops, drinking joints, local school and orphanages among others. You can try the other option being Munyanja river trail, where you can see the waterfalls and an array of bird life or the Muzabajiro/ Ruhija trails which offer forest and grassland bird species plus more primates. Return to your lodge for dinner and overnight.
Day 3: Reserved for Departure
Early breakfast followed by transfer back to Kampala where the tour ends. This takes 8-10hrs drive. Alternatively, we can cross the boarder to Rwanda, fly out through Kigali International Airport. This takes about 4-5hrs drive depending to which lodge you stayed.
OR
3 Days Bwindi Gorilla safari in Uganda from Kigali (Rwanda)
Alternatively, instead of driving for over 10hrs from Kampala to Bwindi national park, the 3 days Bwindi gorilla safari can start and end in Kigali. It is only 4hrs drive from Kigali to Bwindi National park via Katuna or Cyanika boarder. Just let us know your choice!
End of the Safari
RELATED TRIPS:
3 Day Gorilla safari in Rwanda