Mountain gorilla safaris in Uganda and Rwanda
Interested in gorilla tracking in Uganda, Rwanda or Congo? We offer gorilla safaris ranging from day trips to multiple gorilla tracking in different locations.
If you are interested in seeing the mountain gorillas in their natural habitat, Rwanda and Uganda offer one of the perfect locations for gorilla tracking adventures in Africa. Gorilla safaris in Uganda take place in the Impenetrable Forests of Bwindi and Mgahinga National Parks, while in Rwanda, gorilla safaris are conducted in Volcanoes National Park. For many, seeing gorillas in the wild offers a wildlife experience of a lifetime.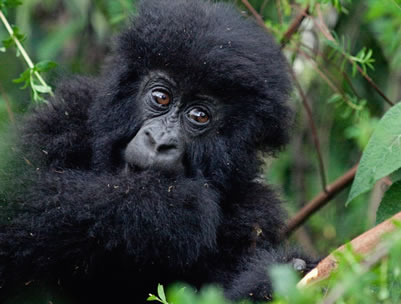 Mountain gorilla trekking starts in the morning and depart from the Park Headquarters at kinigi at around 07:45am. Before departure for gorilla tracking, you are given a briefing by park rangers about the activity. Gorilla trekkers should be in very good physical condition as some of the trek can be physically demanding.
Gorilla tracking excursion normally start in the cultivated land on the base of the Virunga volcanoes, then you are guided up into the beautiful dense misty jungles where you will encounter these gentle giants camouflaged in the thick vegetation. Time taken searching for these gentle Apes ranges between  2 and 7 hours depending on the location of the gorilla family, and their movement in their natural habitat. Gorillas are sometimes far, and sometimes near. The thrill of encountering these gentle giants is worth the effort! It erases away all the poor memories you went through in searching for them. You are allowed to stay for one hour to enjoy them, take photos and videos. The minimum age for gorilla trekking in Rwanda is 15 years. The demand for gorilla permits is extremely high throughout the year. You are advised to book your gorilla permits early at USD750 each. in Rwanda, and USD600 each in Uganda.
If you are interested in planning a gorilla trekking adventure, then please contact us and we would be happy to answer any questions you may have, advise you of current availability of gorilla permits and help you plan your safari. Below are some of our customized gorilla safari packages in Rwanda and Uganda.
Uganda and Rwanda Combined Gorilla Safari Packages
Related Links
Safari Lodges in Uganda and Rwanda
Gorilla Trekking in DR Congo – Virunga National Park
Gorilla trekking in Democratic Republic of Congo is done in Virunga National Park. Though this park is less known, gorilla trekking in DR Congo is the best of all because, the forest is very thick, meaning that gorillas are in their natural setting. Also Congo gorilla groups are very big with many silverbacks.
Email: info@rwandagorillasafaris.com