Nyungwe Forest National Park – Primate Tracking, Canopy walk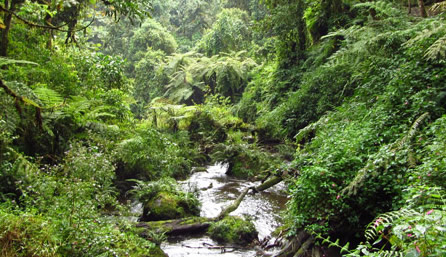 The forest is situated in southern region of Rwanda and was officially established as a forest reserve in 1933. It covers approximately 378 square miles (970 square kilometers) and found in the Albertine Rift.
Nyungwe forest is stated as "the most important site for biodiversity conservation in Rwanda" by Birdlife International for its approximately 280 bird species, 25 of which are endemic. Nyungwe's forests extend to altitudes occupied by few other forests in Africa; 1600-2950 meters above sea level. It is also home to myriad orchids, butterflies, moths and other fascinating insects – all of which constitute the potential for a major, low volume, tourist destination in the making.
The forest is also home to one of Africa's greatest concentrations of amazing chimpanzees and a sometimes noisy, acrobatic combination of other primates such as Ruwenzori colobus and Lhotse's monkeys among others.
It is also a source of Africa's great rivers. Rain that falls on the east side feeds the Nile and on the west runs to the Congo. The Congo-Nile Divide is a mountain range that runs north to south through Rwanda.
Nyungwe is under constant threat from anthropogenic and environmental stresses due to the fact that, the forest is a clearinghouse of information for researchers, activists, and citizens interested in visiting, studying, conserving and working in this complex and valuable landscape.
In 2005, the Government of Rwanda, declared Nyungwe as a national park with high degree of protection by Rwanda security agencies and international Agencies like UNESCO, USAID, UNDP, Wildlife Conservation Society and other donors and NGOs.
Nyungwe is the largest African protected mountain rainforest at over 1000km2. The forest helps in the modification of the climate through heavy convectional rainfall received over 2000mm per annum of rain.
Activities in Nyungwe forest include a variety like primate tracking which rewards visitors with the view of Chimpanzees, colobus monkeys among others. A variety of hiking and walking trails criss-cross the Park leading to a canopy walk, the southern most sources of the Nile and ecotourism attractions.
The park includes a colorful array of orchids, butterflies, moths and other insects. The forest has a growing network of walking and hiking trails and a number of camping sites near the Uwinka Visitor Center. Cultural tourism activities are being developed near the edge of the Park. New trails and camping sites are planned and being constructed as part of the USAID-sponsored Nyungwe Nziza Project, as are new ways of both observing and enjoying the Park.
The canopy walk opens at a time when Rwanda is being recognized as a top 10 global travel destination (Lonely Planet, 2009.). The people of the area are as diverse, with many examples of song, dance, music, cuisine, handicrafts and other artisan skills that make for a fascinating complement to the nature side of trip to this part of Africa.
While in Nyungwe forest, visitors can reside in Lodges like Nyungwe Forest Lodge, Peace Guest house, Nyungwe Hill Top view Hotel, Gisakura Guest House or ORTPN Rest House among others. Check on a 5 Day Nyungwe forest Tour.
Related Articles