Uganda Safaris – Gorilla Tours with Gorilla Specialists in Africa
Looking for a safari in Uganda? We offer cheap gorilla trekking tours, wildlife safaris, and special interest holidays in Uganda. Uganda is one of Africa's most popular tourism destinations, offering unique opportunities to enjoy gorilla safaris and wildlife safaris in East Africa. Uganda is famously known for gorilla tours in Mgahinga forest and Bwindi Impenetrable National Park. Uganda has over 10 National parks which you can visit and have an adventure experience for lifetime. Below are some of our customized Uganda safaris and gorilla tour packages. If none of them suits your interests, please contact us for tailor make package that best suits your budget, interests and time.
Customised Uganda Safaris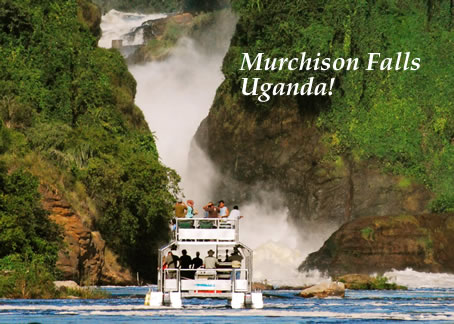 Uganda is also known as the pearl of Africa! As you plan your vacation next summer, think of Uganda safaris and gorilla tours in Africa! There is a wide variety of Uganda wildlife safaris and gorilla tours waiting for you. African Jungle Adventures offers both tailor made and customized Uganda wildlife safaris, Gorilla tours, Rafting adventures, Rwanda safaris and mountain hiking adventures among others. Our Uganda safaris go to all Uganda National Parks and other tourism destinations depending on the number of days you wish to spend on your safari. We also have combined tours, crossing into Rwanda, Burundi, Kenya or Tanzania.
SPECIAL OFFER UGANDA SAFARIS AND GORILLA TOURS
The most popular Uganda safari parks are; Murchison Falls National Park, Kibale Primates Forest, Queen Elizabeth National Park, Bwindi Gorilla Park, Lake Mburo, Mgahinga forest, Mt. Rwenzori and Mt. Elgon National parks, not forgetting Kidepo valley N.P. Below are some of our Uganda safari packages. If none of them fits your needs, we can help you tailor make your tour that best suits your budget, interests and time.
Related Trips
3 days Flying safari to see gorillas
Luxury Lodges in Uganda and Rwanda